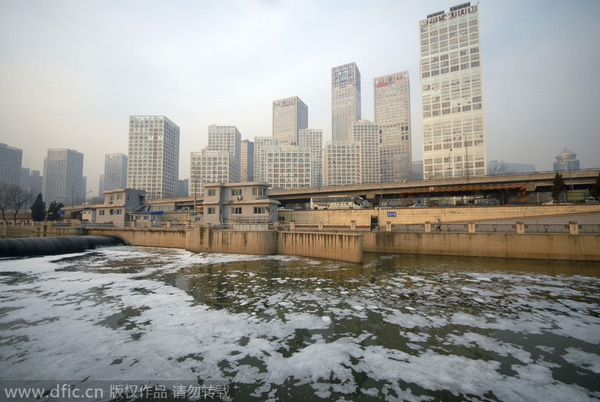 Polluted water in Tonghui River passes by high-rise buildings in CBD (Central Business District) area in Beijing, 15 January 2012. [Photo/IC]
In a Change from past environmental regulations that allowed only State-owned organizations to raise public interest litigation, a Supreme People's Court's judicial explanation, that came into effect on Wednesday, grants the right to more non-governmental organizations. Comments:
Official data show in about 770,000 cases a year people make official complaints about environmental issues, but only 1 percent of them enter the judicial process; lack of public interest litigation is a key reason. The judicial explanation will definitely have a positive influence by breaking the bureaucratic monopoly on environmental lawsuits.
Fujian Daily, Jan 7
A few days before the explanation, a county-level procuratorate in Guizhou province sued a local environmental protection bureau for administrative inaction. Both the action and the explanation are steps forward for China's environmental protection, and we expect more legislative work to support both governmental and non-governmental organizations to participate in the work.
Shenzhen Special Zone Daily, Jan 7
It used to be that people suffering from pollution had no recourse to the law because of the lack of evidence to prove the causal relationship. The top court's explanation helps solve this problem by granting social organizations more freedom; in other words, there are more pairs of eyes to supervise pollution.
People's Court Daily, Jan 7