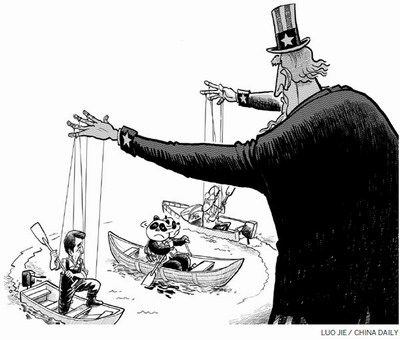 Maritime disputes are testing the wisdom of the Chinese government and have prompted it to handle its ties with the United States with utmost caution to ensure that China's peaceful development continues uninterrupted.
There is little doubt that the maritime disputes broke out as a result of Washington's "rebalancing" in Asia policy, which is aimed at strengthening the US' strategic presence in the Asia-Pacific region. Aside from being aimed at restructuring the US' cooperation with its Asian allies and balancing the equilibrium between China and the Association of Southeast Asian Nations, the "rebalancing" policy is also intended to help Washington maintain its dominant position in and derive the maximum benefit from Asia's development.
Since the US hasn't met with much success with the Trans-Pacific Partnership, which would have helped it advance its "rebalancing" policy, it has embarked on a mission to strengthen its military presence in the region and blockade China's "first arc of islands". Since Asian countries locked in maritime disputes with China expect to get US support to counterbalance China's peaceful rise, they have taken intransigent measures against China and started what could be called an arms race in the region.
The dispute between Beijing and Washington in China's waters revolves mainly around the safety of navigation. Among the contentious issues are whether or not a country needs the prior approval of the Chinese government to carry out military activities such as air reconnaissance, surveys and joint military drills in its Exclusive Economic Zones. China believes that prior approval is needed, because such activities can have a lasting impact on its overall defense structure.
The US, however, thinks otherwise, saying the regulations on freedom in high seas grants a country the right to conduct military activities in another country's EEZs as long as they do not lead to a conflict.
Despite its insistence on the principle of other countries seeking "prior consent" to conduct military activities in its EEZs, China still guarantees the safety and freedom of navigation in the East and South China seas. But the US believes China's actions have compromised the safety of its ships and it needs to take measures to counter the "threat" China poses to other countries in the region. As a result, the US has built a "ring of encirclement" around China in the sea in a bid to squeeze its space for maritime activities and put it in a disadvantageous position.