Event starts with debut display by Chinese Air Force August 1st team
DUBAI - The 15th edition of the biennial Dubai Airshow kicked off on Sunday and deals worth $17 billion were signed on the opening day.
The major deal being sealed on day one of the airshow was an order placed by Emirates Airline for 40 Boeing 787-10 aircraft valued at $15.1 billion.
Emirates is already the world's largest Boeing 777 operator and the airline will be first to receive the new 777X in 2020.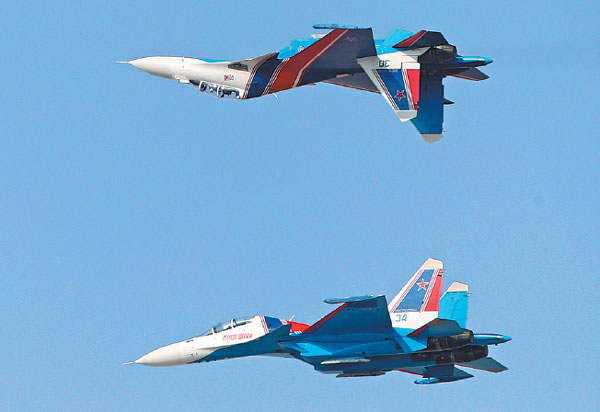 Two Sukhoi Su-30SM from the Russian Knights aerobatic team perform during the Dubai Airshow on Sunday. Agence France-presse
Sheikh Ahmed Bin Saeed Al-Maktoum, Emirates Chairman and CEO of Dubai's government-controlled carrier, said Boeing 787 is a great complement to the current 777 and A380 fleet, providing more flexibility to serve a range of destinations "as we develop our global route network".
Boeing said the 787-10 offers 10 percent better in fuel and emissions than competitive aircraft in the sector, and some 25 percent better in fuel efficiency per seat and emissions than the aircraft it is replacing.
China's Aviation Industry Corporation, or AVIC, and the air force acrobatic team are ramping up their appearance in this event. The airshow, which features an international turnouts of 160 commercial and military aircraft, invited for the first time the Chinese Air Force's August 1st Air Demonstration Team, which demonstrated with J-10 fighter jets its acrobatic skills.
The six jets showed formations like barrel rolls, vertical stunts and parallel flights in the shape of a triangle.
Pragmatic exchange
Shen Jinke, spokesman of the PLA Air Force, said earlier in the month, the air force is ready for pragmatic exchange and cooperation in more fields and many levels with air forces of other countries and to make new contributions to peace and development.
Several visitors of the airshow expressed their excitement about the Chinese aerial show.
"I think it is very good that China shows aerial stunts here at the Dubai Airshow," Mansour Janbi, COO of Arab Express Aviation said.
Florian Descargues, an IT support specialist of Airbus, was not aware that the fighter jets he filmed were Chinese, saying that it is just "extraordinary. I filmed everything with my smartphone".
Moreover, AVIC is also bringing aircraft including unmanned aerial vehicles to the airshow, Executive Vice President Zhang Xinguo said, adding that with an integral solution to the UAV system, AVIC is providing a more consumer-friendly service to its users.
Meanwhile, the United Arab Emirates Ministry of Defence revealed an order book worth more than $1.77 billion, including the purchase of 60 Lockheed Martin F-16s.
The order book includes new deals for international and local companies, including Abu Dhabi Aviation, Thales, Augusta Westland and Global Aerospace Logistics.
Milestone Aviation Group, a GE Capital Aviation Services company and a global helicopter leasing firm, and Italian aerospace and defense firm Leonardo announced on Sunday that Falcon Aviation of UAE's Abu Dhabi will expand its AgustaWestland AW169 helicopter fleet with the addition of a further three aircraft.
Jetex Flight Support in Dubai announced plans to build its aircraft hangar at the Jetex (fixed-base operation) FBO Terminal near Al Maktoum International Airport in Dubai South Aviation District.
Set to be operational by 2019, the new development, encompassing 20,000 square meters, will feature an air-conditioned hangar fully equipped to accommodate the parking and maintenance needs of all major types of aircraft.
The five-day Dubai Airshow which occupies 645,000 square meters at the exhibition center near Al Maktoum International Airport will run through Thursday.
More than 72,500 trade visitors and 1,200 exhibitors are expected across the event's five-day run, representing the entire spectrum of the aerospace industry.
Xinhua