Chen Qigang cancels world premiere of his new work but fans can look forward to his other music pieces. Chen Nan reports.
A week before the world premiere of his new work, Itineraire d'une illusion for orchestra, Chen Qigang made a decision that shocked many.
The work - earlier scheduled to be staged last week at the National Center for the Performing Arts in Beijing and performed during the North American tour of the NCPA orchestra from Saturday to Nov 7 - has been canceled by the composer.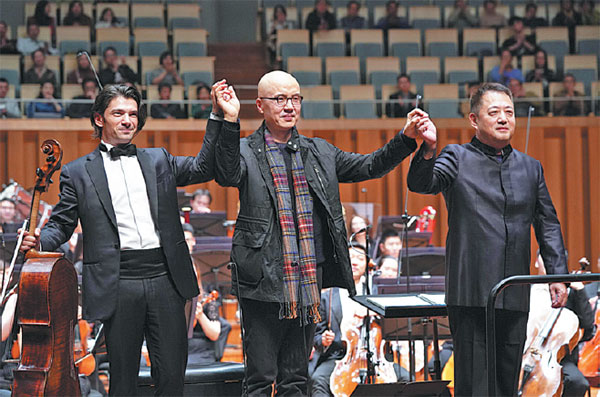 Chen Qigang (center) with cellist Gautier Capucon and conductor Lyu Jia at the National Center for the Performing Arts in Beijing on Oct 18. Provided to China Daily
Chen's previous work, Reflet d'un Temps Disparu for cello and orchestra, and his symphony variation work Luan Tan will replace Itineraire d'une illusion.
"I made the decision after watching the rehearsals. I apologized to the band. It's just not what I want. It's so disappointing," says Chen. "I am aware that my decision will cause a lot of trouble but the inconvenience can be ignored for the sake of art."
Itineraire d'une illusion is Chen's second symphony variation work after Luan Tan. In the past six months, he revised the score many times but wasn't satisfied.
Chen says he wanted to create music that would depart from his usual style.
"It's the first time for me to cancel the scheduled premiere of my work. But for artists, it's important to acknowledge wrong ideas and start all over again. I will not give up Itineraire d'une illusion. I am still working on it," says Chen, adding that the anticipating audience could wait a little longer.
Born in Shanghai in a family of intellectuals in 1951, Chen graduated from the Central Conservatory of Music in Beijing and went to study in France in 1984, learning from the late French composer Olivier Messiaen.
Chen's works range from chamber music, symphony orchestras and vocal music to music for ballets and films.
He was the music director for the opening ceremony of the 2008 Beijing Olympic Games and composed the song You and Me.
But fans of his composition will still get a chance in the near future to listen to his music.
On Sunday, the China Philharmonic Orchestra will perform the world premiere of Chen's work, La Joie de la souffrance for violin and orchestra in Beijing. Russian violinist Maxim Vengerov will play with the orchestra. The piece was commissioned by the Beijing Music Festival.
Chen composed the piece this year.
According to Chen, La Joie de la souffrance for violin and orchestra was inspired by the traditional Chinese music piece, Yang Guan San Die (Three Variations of Yangguan), which was based on Tang Dynasty (618-907) poet Wang Wei's poem Seeing Yuaner off on a Mission to Anxi.
"I have loved the Chinese music piece ever since I was a young student. The theme of the piece is about parting, which I relate to at a personal level," says Chen.
Five years ago, the composer lost his only son, Chen Yuli, a budding talent who composed for movies and TV series, such as Zhang Yimou's The Flowers of War and Under the Hawthorn Tree.
The remorseful father says he regrets having missed out a lot on his son's childhood as he had been preoccupied with work.
But after his son's death in a car accident in 2012 at the age of 29, the composer spent months taking comfort from watching videos of his son made by the boy's mother.
"I realized that the pain of losing my son, in a sense, was also a way that changed me and enabled me to confront myself," Chen Qigang says.
In 2015, he launched a composition workshop at Gonggeng College in China as a platform for young musicians who interact and compose for a whole week while staying in a remote village in Suichang, East China's Zhejiang province. Music students come from all over the world and get free accommodation and classes there, he says.
Three such sessions have already been held.
"In holding the workshops, it is not our intention to build a standard of composition but rather to break out from thinking only in terms of established aesthetics and eventually, to create a free, independent space for new ideas," he says.
He has benefitted from this workshop, too.
"I live in the village, which is surrounded by trees and streams. And without a fast-paced urban life, I don't have to meet people or socialize," he says, adding that he works, reads books and spends time alone.
Looking ahead, Chen Qigang's work, Jiang Tcheng Tse for solo voice, chorus and orchestra, will have its world premiere at the NCPA on March 2.
Jointly commissioned by the NCPA Orchestra, Vale of Glamorgan Festival, Sydney Symphony Orchestra and Wales BBC National Symphony Orchestra, the work is based on the poem Jiang Cheng Zi written by Song Dynasty (960-1279) poet Su Shi. In the poem, Su mourns the death of his wife.
Contact the writer at chennan@chinadaily.com.cn