Basi, the world's oldest captive giant panda, died in Fuzhou, Fujian province, at 37 on Wednesday.
She was more than 100 years old in human terms because one year for a giant panda is equivalent to three or four years for a person, said Zhang Guiquan, a senior panda expert at the China Conservation and Research Center for the Giant Panda in Wenchuan county, Sichuan province.
Basi is best known as the original model for Panpan, the mascot for the Beijing Asian Games in 1990.
The animal's body will be preserved and placed on display in the Basi Museum in Fuzhou, according to Chen Yucun, chief of the Strait Panda Research and Exchange Center.
Basi died of numerous illnesses, including liver cirrhosis and kidney failure, in the center at 8:50 am on Wednesday after living in Fuzhou for more than 33 years, Chen said on Thursday.
The death of Basi has caused sorrow among panda lovers in the city.
Chen Ying, 17, of Fuzhou, spent more than 40 minutes commuting on the bus to the Strait Panda Research and Exchange Center to offer her condolences.
"I came here a couple of days ago but failed to see Basi. I felt it a great pity and was heartbroken to learn on Sina Weibo that she has left us forever," she said.
According to Chen Yucun, a memorial service is planned for 10 am on Saturday at his center so panda lovers can share their grief. Videos about her will be shown there every day before the National Day holiday, which falls on Oct 1.
A wild panda, Basi was born in the Basi valley of Baoxing county in Sichuan province in 1980. She was saved by a villager after falling into an icy river in 1984 as she fled a pursuing hyena. She was starving at the time, as edible bamboo, the staple food of pandas, was scarce.
The villager, Li Xingyu, named her Basi, which means both the Basi valley and nice in the Sichuan dialect.
Basi celebrated her 37th birthday in January. In August, Guinness World Records confirmed her as the world's oldest living captive panda.
After she was rescued from the wild, Basi first lived in the Fengtongzhai Nature Reserve in Baoxing county in Sichuan. Then she was sent to the Fuzhou center where she was trained to ride a bicycle, shoot a basketball and lift weights.
In 1987, she performed stunts in San Diego, California, for half a year.
In 1990, Basi became a household name in China when she became the mascot of the Beijing Asian Games.
China's fourth panda census showed that there were only 1,864 wild pandas and 375 captive pandas worldwide by the end of 2013.
Yang Jie contributed to this story.
Contact the writers at huangzhiling@chinadaily.com.cn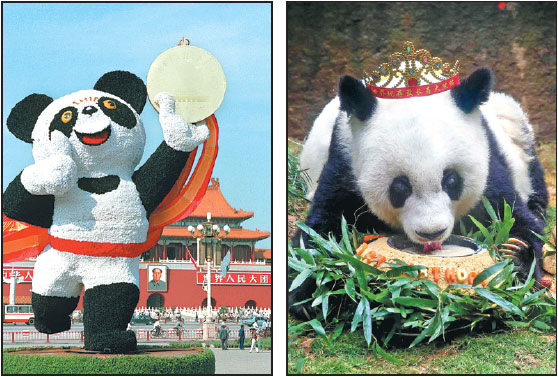 Basi, the world's oldest captive giant panda, is pictured at right at her 37th birthday party in January at the Strait Panda Research and Exchange Center in Fuzhou, Fujian. Basi was best known as the model for Panpan, mascot for the Beijing Asian Games in 1990(left). She died on Wednesday.Xinhua And Hu Meidong / China Daily