The Chinese edition of a book drawn from a leading magazine taps growing interest in contemporary genres. China Daily reports.
A new Chinese edition of a book on contemporary art is set to help more readers understand the genre, amid its rapid development in the country in recent decades.
"Nothing needs to be interpreted more than contemporary art," Wang Min'an, a professor at Capital Normal University, writes in the preface to the Chinese version of the book, A to Z of Contemporary Art, launched earlier in September.
The book is a collection of 59 articles from Frieze, a leading London-based magazine of contemporary art and culture.
The new book features art reviews and artist interviews, as well as essays on films, museums, photography, furniture and other related subjects. Broader topics, such as ethics, gentrification and taste are also discussed.
Nearly 700 artists, critics, writers, scholars and curators are covered in the book, including big names such as Andy Warhol, Damien Hirst, Tracey Emin and Gerhard Richter.
"Contemporary art in China has been developing rapidly in recent decades and formed a new look to the art circle," says Colin Siyuan Chinnery, a curator and writer of the only story about a Chinese artist in the book.
"However, there lacks a book that links contemporary art to the wider cultural and social background. Thus, the Chinese version of the book comes just in time."
"The book can be seen as an interpreter that translates visualized artworks into knowledge production, which can be directed to public education and bring ordinary people closer to topics of artistic concern," says Xiang Jing, a Beijing-based artist, who is known for her sculpting.
Chinnery's article was published in 2014, right after major Chinese artist Xu Zhen, who founded MadeIn Company in 2009, held his retrospective Xu Zhen: A MadeIn Company Production in Beijing.
Works at the exhibition included ShanghART Supermarket, which was a life-size replica of a typical Chinese convenience store, except that row upon row of bottles, cans, packets and jars with intact seals were all empty.
"Emptied of content, the items were also emptied of their practical use and value... With every 'ping' of a cash register, a member of the audience magically turned into an art collector," writes Chinnery.
"For Xu Zhen, creating meaning in such a vast and complex society as China involves having a voice strong enough to affect the cultural landscape."
According to Chinnery, Xu's response was to create "an exhibition for everyone" - professionals, the public and the rich collectors - and his success required fundraising that drew galleries, dealers, auction houses, foundations and collectors together. "This is where MadeIn Company - and money - comes in."
At the launch of the book, renowned artists, poets, scholars, curators and the publisher held a discussion focusing on their understanding of contemporary art and its development in China.
In Wang's opinion, "there's no frame that could reach the edge of contemporary art", Wang says.
"Any artistic form that cannot be accepted by existing genres is a form of contemporary art".
The black-and-white cover of the Chinese version - designed in the style of contemporary art - is created by Ma Shirui, one of the winners of The Beauty of Books in China awards in 2014.
The original version of the book marked the 25th anniversary of Frieze, which was founded by Amanda Sharp and Matthew Slotover in 1991.
They were eager to know more about contemporary art then but found many magazines full of cliches that were also difficult to understand, whereas fashion magazines like Arena and The Face were charming, clear and "so British".
Inspired by the fashion magazines of the time, the trial of the art magazine, which was co-founded by artist Tom Gidley, was released in June 1991. It boasted a delicate design, less-daunting terminology and abundant artistic information.
That style continues today, making "Frieze" one of the most influential brands in the field. According to Boundless Books, the publisher of the Chinese version, more than 10,000 copies were sold in just three months since the book's first release in Britain last October.
Contact the writer at fangaiqing@chinadaily.com.cn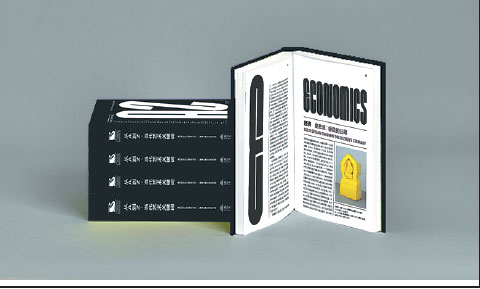 A to Z of Contemporary Art is a collection of 59 articles from Frieze, a leading London-based magazine of contemporary art and culture.