New era begins on positive note as shops see revenue rise
NAIROBI, Kenya - Supermarkets and other retail outlets in Kenya are among the biggest beneficiaries of a ban on plastic bags, which took effect on Monday.
The outlets, which are in their hundreds in the East African nation, are currently selling the alternatives to plastic bags that include canvas bags creating a new revenue stream.
Before the ban, the shops would pack the goods bought by shoppers in plastic bags for free.
But the new era has started with positive signs, with each outlet selling the shopping bags from $0.05 for the light bags to $0.50 for the heavy canvas bags.
And with hundreds of customers thronging into the retail outlets every day, the canvas bags are becoming a cash cow for the shops.
"We are providing customers with eco-reusable bags for $0.05 for small bags and $0.10 for large bags. But we encourage you to come with your kiondos and baskets. Feel free to return with your reusable bags," Tuskys, one of the biggest supermarket in Kenya, informed customers via SMS on Monday.
The same message was pasted at the entrance of all its branches across the country.
A visit to three branches of the retail outlet in Nairobi, however, indicated that most of their customers were not bringing along reusable bags. Instead, they were shopping and buying the reusable bags as the supermarket made a killing.
At a branch of Nakumatt supermarket, their larger branded canvas bags were going for up to $0.50, an indication of how lucrative the business was.
While customers were similarly asked to bring along their shopping bags, many of them shopped and paid for the canvas bags.
"I have no choice but to buy the canvas bags," said Moses Mutua, a shopper at a branch of Tuskys supermarket along Moi Avenue.
"If you tell men to bring along their shopping bags, that is practically impossible because I cannot walk around with it in my coat pocket waiting to shop. For women it is easier because they would carry them in their bags."
Mutua bought several items that filled two canvas bags spending $0.20 on the bags, money that initially he would have saved if plastic bags were still in use.
"Supermarkets should consider giving to customers these shopping bags for free because I do not believe their cost is higher than that of plastic bags. It seems like they are taking advantage of the new regime to make money," he said.
Retailers noted the canvas bags would help them save costs that arose from provision of plastic bags.
According to Retail Trade Association of Kenya, the budget on plastic bags constituted up to 2 percent of retailers cost bases, therefore, the elimination of the expenditure results into huge savings for that outlets some that have annual turnover of up to $583 million.
The National Environment Authority sent out inspectors to ensure the public complies with the ban but said its focus would be on companies.
Kenya used up to 24 million plastic bags monthly, with half ending up in the environment due to poor disposal.
Xinhua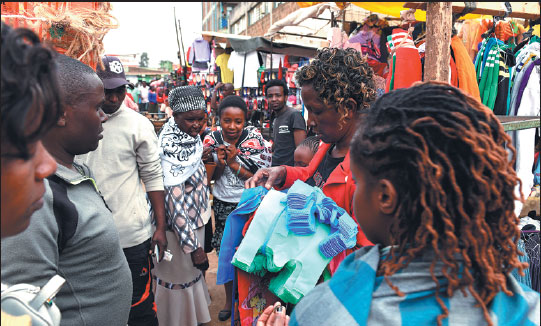 A vendor sells shopping bags made of non-woven fabrics in a market in Nairobi, Kenya, on Monday.Li Baishun / Xinhua News Agency