KABUL - Six female students from war-torn Afghanistan who had hoped to participate in an international robotics competition in the United States this month will have to watch via video link after their visa applications were denied twice.
The girls wanted to show the world that Afghans can also construct a handmade robot. But of 162 teams who planned to participate, the Afghan girls are the only nation's team to be denied visas by the US and will instead watch from their hometown in western Afghanistan.
"When we heard that we were rejected we lost hope," said 14-year-old Sumaya Farooqi. "We applied again for the US visa and we were rejected again."
Farooqi and her teammates had already faced seemingly insurmountable obstacles to even get to a point where they could seek permission to attend. It took them six months to prepare, often working seven days a week, as they constructed a robot that sorts balls, has the ability to recognize orange and blue colors and can move objects to put them in their correct places.
The girls traveled from their homes in Herat after convincing family members to let them go, no small feat in a country where young girls are often discouraged from pursuing academic study, especially in hard sciences such as math.
They made the 800-kilometer journey to the US Embassy in Kabul twice because their applications were denied a first time, even though that location was targeted by a deadly truck bomb on May 31 in which more 150 people were killed and more than 400 others wounded.
Afghanistan is not part of US President Donald Trump's order to temporarily ban travel from six Muslim-majority countries. Yet teams from Syria, Iran and Sudan, who are on that list, were granted visas to compete.
The US State Department declined to comment on why the Afghan team's visa applications were denied, saying "all visa applications are adjudicated on a case-by-case basis in accordance with US law".
Although the girls were denied entry into the country, their robot was allowed in.
Associated Press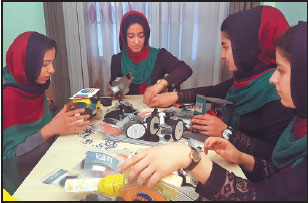 Teenagers from the Afghanistan Robotic House, a private training institute, practice on Thursday in Herat, Afghanistan.Ahmad Seir / Associated Press