Firm has already participated in the setting of global standards and establishing joint innovation center
China Mobile Communications Corp, the world's largest telecom carrier by subscribers, will start 5G scale tests next year and launch a pre-commercial service in 2019, with an aim to fully commercialize 5G services in 2020.
"We will accelerate the research and development of 5G and carry out 5G outfield tests in five cities this year," said Shang Bing, chairman of China Mobile, during the 2017 Mobile World Congress in Shanghai.
Shang said China Mobile has already participated in setting up 5G international standards, and established a 5G joint innovation center, adding it will ramp up efforts to develop 5G key technologies and promote innovative applications related to 5G.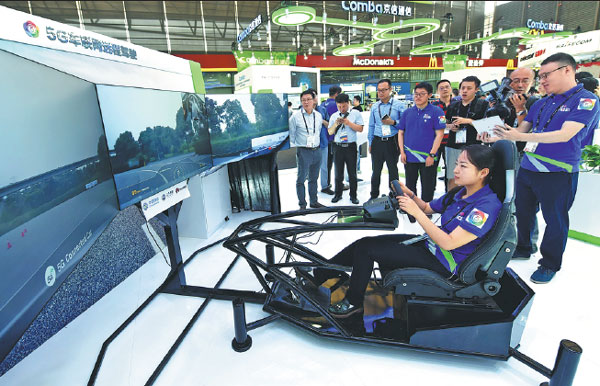 A woman demonstrates remote driving technology based on 5G during the 2017 Mobile World Congress in Shanghai on Wednesday. Long Wei / For China Daily
The company recently established the country's first 5G base station in Guangzhou, Guangdong province, and carried out 5G outfield test by cooperating with telecom equipment maker.
Furthermore, China Mobile will start the construction of a mobile internet of things in 346 cities across the country this year, with an expectation to commercialize the network in some key cities by the end of this year, Shang said.
It is expected that 4G base stations will reach 1.77 million by the end of this year, covering more than 99 percent of the population, with its 4G customers increasing to 630 million, according to Shang.
China Mobile is committed to accelerating the building of new generation information infrastructure, and its accumulative investment in 4G has surpassed 450 billion yuan ($66.2 billion). The 4G base station has came up to 1.62 million, which accounts for 30 percent of 4G base stations worldwide.
The country has attached great importance to 5G in its 13th Five-Year Plan (2016-20). In March, the Ministry of Industry and Information Technology announced the country had established the world's largest 5G test field in the race to standardize the technology.
China is expected to become the world's largest 5G market before 2025, according to a report by GSMA Intelligence, a think tank of the representative body of the global mobile industry and China Information and Communications Technology Academy.
The report also forecasts that Chinese 5G connections will scale rapidly over time, to reach 428 million by 2025.
China United Network Communications Group, the country's second-largest telecom carrier has also accelerated its efforts to develop 5G technology. It recently established the country's first pre-5G base station in Jilin province in partnership with Huawei Technologies Co.
"China Mobile has made a bigger investment in 5G tests and experiments, compared with its rivals, including China Unicom and China Telecom. Moreover, China is in the forefront of 5G technology around the world, possessing a right of speech in the establishment of 5G international standards," said Fu Liang, an independent telecom analyst.
Xiang Ligang, a telecom expert and CEO of telecom industry website cctime.com said China Mobile has almost finished the construction of 4G networks nationwide and could spend more efforts and money on 5G research and development.
Shi Jing contributed to the story.
fanfeifei@chinadaily.com.cn