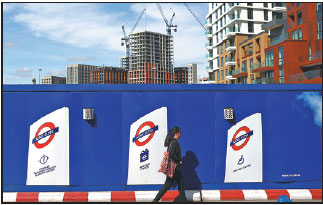 A hoarding at a construction site in the Nine Elms area of London, United Kingdom.Reuters
Chinese real estate giant Wanda closed a 470 million pound ($600 million) deal to buy a major piece of land in South London's Nine Elms area on Wednesday, the latest in a series of key Chinese investments in London property.
The 4.05 hectare plot, Nine Elms Square, has already received outline planning permission for the construction of 1,821 apartments in three high-rise buildings that will each have between 32 and 54 floors.
The consent was obtained by British company VINCI St. Modwen, which then sold the land on to Wanda.
VINCI St. Modwen initially planned to develop 23 hectares of land around the Nine Elms area.
Following the Wanda deal, the UK group said it will now focus on other development projects in the area.
Nine Elms Square is Wanda's second major real estate investment in the United Kingdom. Its first was One Nine Elms, an 88.8-million - pound project Wanda started in 2013, consisting of 437 apartments in two high-rise buildings that will rise to 42 and 58 floors respectively. Construction of One Nine Elms is under way, next door to Nine Elms Square.
Wanda's investment comes as Chinese investment is pouring into London property at an unprecedented rate, fueled by the depreciation of the pound that resulted from uncertainties around the UK's decision to leave the European Union.
Eric Zhao, an associate director at real estate agent Savills, said Wanda's new purchase has opportunities and challenges.
"The proximity of Wanda's two investments means Wanda has more flexibility to provide its own unique products, because the land it has is large enough to allow for that. However, challenges exist due to a big supply of new builds in the Nine Elms area," Zhao said.
In another development, shares in Shenzhen-listed Wanda Film, a listed arm of Wanda Group, halted trading on Thursday after tumbling nearly 10 percent on speculation about Wanda Group. The group denied as "malicious speculation" market rumors that banks had ordered a sale of its bonds, and said it is operating normally.
cecily.liu@mail.chinadailyuk.com