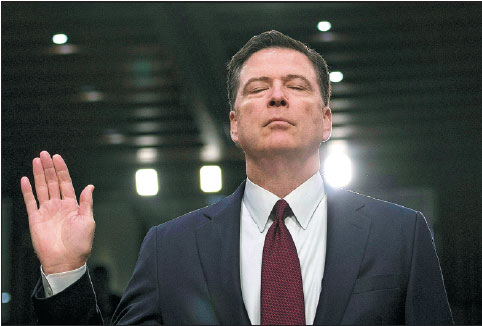 Former FBI director James Comey is sworn in during a hearing before the Senate Select Committee on Intelligence in Washington on Thursday.Brendan Smialowski / Agence Francepresse
Fired former FBI boss says he made notes during meetings with president
WASHINGTON - Ousted FBI chief James Comey on Thursday accused Donald Trump's White House of lies and defamation in sworn testimony that plunged Trump's already troubled presidency deeper into peril.
During almost three hours of extraordinarily frank statements carried live by networks and cable news stations, Comey described himself as "stunned" by Trump's "very disturbing" and "very concerning" behavior in several meetings.
Detailing one-on-one talks with a sitting president - which under normal circumstances are private - Comey said he took painstaking notes for fear Trump might "lie" about the unusual encounters.
The testimony painted a devastating picture of a president who at best unknowingly shred the norms of office by pressing Comey on the probe into Russian election meddling, and at worst might have criminally obstructed justice.
Comey recalled that during a White House dinner the president asked him for "loyalty" and to "lay off" his former national security adviser Michael Flynn - who is under criminal investigation over his Russia ties - imploring Comey to "let this go".
Comey indicated it was now up to a high-powered special prosecutor to determine whether that behavior, and his own dismissal, constituted an obstruction of justice, a potentially impeachable offense.
"It's my judgment that I was fired because of the Russia investigation," he said.
"I was fired in some way to change, or the endeavor was to change the way the Russia investigation was being conducted. That is a very big deal."
Easing months of speculation, Comey confirmed that Trump was not personally under investigation when he left the FBI last month.
The White House and Trump's lawyers expressed vindication over some parts of Comey's testimony and lashed out at others.
"I can definitely say the president is not a liar, and frankly I am insulted by that question," White House representative Sarah Sanders said.
Trump's lawyer Marc Kasowitz said the president "never told Mr Comey 'I need loyalty, I expect loyalty' in form or substance," rejecting a key allegation.
Deploying Trump's trademark bare-knuckle style, Kasowitz also suggested Comey should be prosecuted for leaking "privileged information".
Trump avoided directly responding to the explosive accusations, defiantly telling supporters at a religious event in the capital: "We are going to fight and win."
While the president was unusually quiet on his preferred communication platform, Twitter, his son Donald Trump Jr was not.
"You see how disgusting the swamp really is, the people that are there," the younger Trump said in an interview with Fox News on Thursday, a nod to his father's campaign pledge to "drain the swamp" that is Washington.
"This is what the people voted against last time. I'm happy for them to keep doing it. It's going to make 2020 that much easier," he said, referring to the next presidential election.
Trump abruptly fired Comey as FBI director on May 9.
Afp - Ap - Xinhua