The central government is fighting, and winning, a war against corruption - and European businesses should take note
No doubt European companies that already do business in China, as well as the hordes that have their eyes set on the country, are well aware of the economic transition taking place. But to understand this fully, European industries need to take an interest in the everyday life of ordinary Chinese citizens and not just work with Chinese business partners.
In particular, the Chinese public's entertainment and media consumption habits might be a good starting point for Europeans to gain a deeper insight into Chinese lifestyles, as well as the changing Chinese business environment.
The current television show In The Name of the People, whose Chinese name is Renmin de Mingyi, provides a perfect window of opportunity for Europeans to learn more about changing China.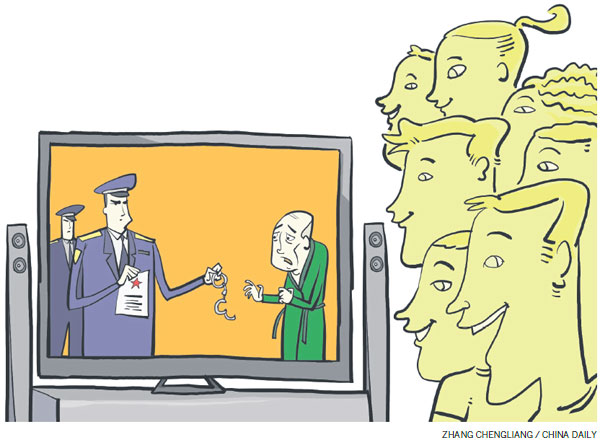 To describe this drama as popular is a massive understatement, with viewing figures reaching 500 million - plus daily and Chinese consumers across ages and regions glued to each riveting episode.
Clearly, there is huge potential for each of the major stars of this TV series, all of whom are now household names across China, to support European companies and their brands in penetrating the Chinese market. Celebrity endorsements and brand ambassador roles would certainly lead to an immediate and significant increase in brand awareness.
Furthermore, such is the level of critical acclaim this drama has received across China that it registered an incredible 9/10 on China's most popular streaming site Douban.
Before going any further, it is important that European businesses are aware of Douban (www.douban.com), one of the most dominant social networking sites in China, with well over 200 million registered users. In particular, Douban is a firm favorite for Chinese consumers when recording comments related to film, TV plays, books and music.
Yet, how many Europeans have even heard the TV play's name? Further still, how many Europeans have any understanding of the Chinese name "Renmin de Mingyi"?
So why is this so popular? And what does this mean for those doing, and wanting to do, business in China?
The drama is currently showing across the China mainland. The play is situated in a fictional Chinese province named Handong and features a government investigator, Hou Liangping, played by dashing Chinese actor Lu Yi, who travels to the province to investigate a murder.
The drama's director, Li Lu, confirmed that the central government approved the series. Li believes that the approval is part of a genuine efforts to eradicate corruption in the Party at all levels.
European industry needs to be aware of these effort and the significant contribution of this TV show.
During the play, Hou's wife, an undercover agent who has been ordered to secretly investigate the affairs of Handong province's Party leader, features heavily and is frequently seen reporting back to the Central Commission for Discipline Inspection, China's anti-corruption agency.
Director Li has reportedly been allowed rare access to a high-security prison in East China to discover first-hand more about the plight of recently convicted corrupt officials.
For European business, therefore, the message is clear: China's central government is fighting, and winning, a war against corruption. Doing business in China, as a result, should become increasingly similar to the rule-based system of law that typifies most European business environments.
The fight against corruption, across all regions and at all Party levels, has been a central part of President Xi Jinping's campaign since he took office in 2012. Since then, Xi's anti-corruption fight has resulted in the conviction of many corrupt officials.
Significantly, this includes an unprecedented number of high-ranking officials, colloquially referred to as "tigers", such as the former head of China's internal security apparatus Zhou Yongkang. Lower-level officials, known as "flies", have also felt the full force of the anti-corruption campaign.
The ruthless and relentless pursuit of the highest-ranking officials should be accepted by European businesses as a clear signal of change to a far less corrupt Chinese business environment. Even though the drama is not a documentary, it's playing an important part in the anti-corruption fight.
Despite the very public crackdown on corruption at the highest level under Xi's leadership, the television and film dramas have thus far avoided implicating the senior Party official characters. Depicting a corrupt provincial Party secretary was considered unacceptable. With only 30 provincial leaders across the entire country, any critical coverage, even a television play, could be seen as targeted and start some sort of witch hunt.
Many provincial Party leaders are also members of the Party's Central Committee.
But Renmin de Mingyi explodes these previous constraints, and in so doing contributes to a new level of transparency and trust across and inside China's political system.
The television drama ends with the commencement of a corruption trial of three high ranking officials. This should further reassure European businesses with concerns they may still have about corruption and the Chinese legal system. The Chinese judiciary has shown, via recent corruption trials, that enforcement of the law should not be questioned. European companies should understand that this extends to all aspects of business law, too - legal protection of intellectual property rights and registered trade and brand names in particular.
On the subject of name registration in China and legal protection, European companies should be aware that registration in both English and a transliterated pinyin version is necessary in order to ward off any potential copycat name.
Starbucks found itself embroiled in a legal battle not that long ago in Shanghai, where a rival coffee shop has launched Xing Ba Ke, which is the transliterated version of the Starbucks name always used by Chinese consumers. Starbucks had only registered the "Starbucks" name in China, and not the name used by Chinese consumers. But the Chinese judicial system came to the rescue and supported the US coffee chain's claim to infringement of its intellectual property. The case would not even have gone to court had Starbucks registered both "Starbucks" and "Xing Ba Ke" in the first place.
European companies, large and small, still see attractive business opportunities across China, but to achieve lasting and substantial success they need to focus much more on the way Chinese lifestyles are changing and gain some understanding of the most popular and current entertainment productions. Renmin de Mingyi is among the most popular ever (no exaggeration). The quality of acting and directing further contributes to the fully deserved critical acclaim it has received.
But European readers should also note that this TV show is not just drama with a high quality cast and script. The rhetoric is based on reality, where corruption in China is being tackled at all levels and no corrupt official is now safe from scrutiny and possible prosecution.
As a result, European companies will receive the full support of an increasingly open and just Chinese legal system, and doing business in China will become more and more transparent.
The author is a visiting professor at the University of International Business and Economics in Beijing and a senior lecturer at Southampton University. The views do not necessarily reflect those of China Daily.