Juve goalkeeper legitimate rival for Ronaldo, Messi
MILAN, Italy - As Juventus looks to end a 21-year-wait for the Champions League title, there are those who believe Gianluigi Buffon can end a 54-year wait and be officially crowned Europe's top goalkeeper.
The rock of a team that recently embellished its growing pedigree with a record sixth consecutive title and record third straight league and cup double, Buffon, many believe, is in firm contention for the Ballon d'Or.
Given the dominance in recent years of Cristiano Ronaldo, Real Madrid's main threat on Saturday when it meets Juve in Cardiff, and his Barcelona nemesis Lionel Messi, such an accolade is not to be underestimated.
Especially when considering the only previous goalkeeper honored was Russian legend Lev Yashin, in 1963.
Many have come close, including Buffon, who in 2006 finished second to Italy teammate and Madrid defender Fabio Cannavaro.
But to match the feats of Yashin, known as the 'Black Spider' for his acrobatic shot stopping that wowed the beautiful game in the 1960s, is going to take some doing.
AC Milan legend Gianni Rivera, who finished second to Yashin in the 1963 vote, has echoed many who believe Buffon, still in search of a first Champions League title, will only get close if Juve is crowned European champion.
"It was a historical first, but it was right to give Yashin his award," Rivera recently said in an interview with Corriere della Sera. "I only found out later that I'd finished second.
"Buffon deserves to win it for what he's still doing on the pitch. If he manages to win the Champions League with Juventus, it will be the crowning glory of what has been a really extraordinary career."
Now 39 and heading towards retirement following the 2018 World Cup in Russia, Buffon remains one of the world's best.
In a season that has seen Juventus ditch a conservative 3-5-2 formation for a more attacking 4-2-3-1 which tends to expose a keeper more than usual, Buffon has been superb.
In European competition, he has defied his years and produced three remarkable stops on his way to seeing Juventus put one leg into the final with a 2-0 win over Monaco at Stade Louis II last month.
It is not for nothing that Buffon, who has seen Juventus through some hard times - notably, remaining with the club following its demotion to Serie B following the Calciopoli match-fixing scandal - is regarded, in parliamentary terms, as the 'speaker of the house.'
At the head of the Juventus dressing room there are two plush seats that resemble thrones. Buffon sits on the right, with notoriously media-shy but hugely respected Croatian forward Mario Mandzukic to his left.
From that perch, Buffon commands the dressing room.
However, the former Parma stopper admits: "You have to make the saves. If I'm not making saves, then I can't start giving lessons."
The last time Juve won Europe's top club prize was in 1996, when the Turin giant beat Ajax at Stadio Olimpico in Rome.
After finishing second in 1997 and 1998, Juve lost the final twice, in 2003 and 2015, for a record tally of six runner-up places.
Ending their winless streak might just give Buffon - described recently by France Football magazine as "the only real rival to Ronaldo" - the Ballon d'Or.
Defender and teammate Giorgio Chiellini, though, said Buffon should only deserve it based on his performances this year.
"I'm lucky to have played all my career alongside Buffon. He deserves the Ballon d'Or for what he's achieved this year," Chiellini said.
"I hope he wins it, but it would be a consequence of us winning in Cardiff,"
France Football tempered those hopes, adding: "Buffon is a goalkeeper and even if Juve triumphs there is always this handicap: the one of not having one's destiny in his own hands.
"Ronaldo can decide how much to give of himself. Buffon has to wait for the opportunity.
Agence France - Presse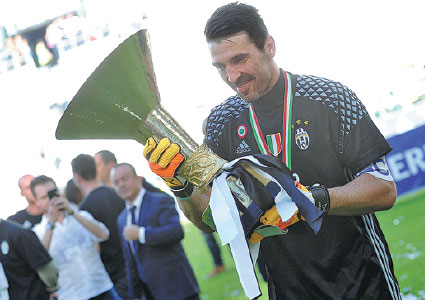 Juventus goalkeeper Gianluigi Buffon holds the Serie A trophy on May 21. The 39-year-old could enhance his chances for the Ballon d'Or by backstopping Juve to the Champions League title on Saturday in Cardiff, Wales. Giorgio Perottino / Reuters