The death toll from a severe crash inside a tunnel in Hebei province on Tuesday has risen to 13, officials involved in the investigation of the incident said on Wednesday.
Three others were severely injured and two remained missing, the officials said.
The crash, which occurred at around 6:20 am on Tuesday, destroyed nine vehicles inside the tunnel in Laiyuan county of Baoding - a section of highway connecting the province's Zhangjiakou and Shijiazhuang cities.
"The preliminary results showed that a vehicle carrying sodium chlorate, a dangerous chemical, caught fire first; then the explosion occurred and set fire to the nearby vehicles inside the tunnel," said Huo Guijun, head of the Baoding traffic police team, a branch of Hebei Highway Traffic Police, at a news conference in Laiyuan.
Huo said that sodium chlorate in powder form is prone to explode when it comes into contact with some combustion-supporting materials.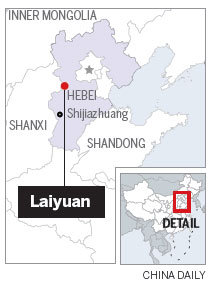 Four trucks carrying coal were damaged. The coal contributed to the explosion and subsequent fire, he said.
Thirteen people inside the tunnel were killed, three sustained severe injures and two were missing, said Wang Baohui, spokesman for Baoding city government and head of the group dealing with the crash.
Wang said the explosion and resultant fire also damaged several nearby houses, and injured 17 residents living near the tunnel, as well as one rescuer. More than 40 houses had glass and roof damage, and at least one was set on fire.
Five residents who were treated at the hospital were discharged and returned home on Wednesday.
Traffic on the affected section was suspended on Tuesday morning, and vehicles heading for Zhangjiakou and Shijiazhuang were advised to find other routes, the provincial traffic authority said on Wednesday.
"Maintenance workers are clearing debris and repairing damage to the highway to allow traffic to resume as soon as possible," Wang said.
zhengjinran@chinadaily.com.cn