Student demand on increase as the UK becomes 'less attractive'
THE HAGUE, The Netherlands - More international students are opting to study at Dutch universities, lured by degree courses taught in English, as Brexit threatens the international appeal of the United Kingdom's higher education.
"Applications from international students for both undergraduate and graduate programs have increased significantly this year," said Zoe den Boer, senior adviser of international marketing and student recruitment at Maastricht University. "Uncertainties relating to Brexit have influenced students, who are looking more actively into options offered elsewhere in English."
Maastricht University has experienced an increase of 35 percent in applications for its masters degrees and 10 percent for undergraduate courses from international students.
"The increase could be the result of how Brexit is influencing future students' choices," said de Boer, though she cautioned that figures of enrollment might change since not all students who apply end up enrolling.
The trend is not limited to Maastricht, which is regarded as the most international higher education institution in the Netherlands with about half of its students and 40 percent of academic staff coming from abroad.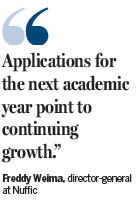 Total demand for bachelor programs at Dutch universities by international students has increased by 18 percent to 23,900 applications for the next academic year, according to VSNU, the association of universities in the Netherlands.
At the same time, in the UK, applications of European Union students have fallen from increases of 5 to 7 percent per year to a 7 percent decline, while non-EU student applications have stagnated, according to the UK universities admissions service UCAS.
"Studying in the UK has become less attractive," said Adri Meijdam, executive director of the BSc program in international business administration at the Rotterdam School of Management, which is part of Erasmus University. He stated concerns over higher tuition fees and visa regulation constraints as the main reasons.
"Applications for the next academic year point to continuing growth in the number of international students aiming to study at Dutch universities," said Freddy Weima, director-general at Nuffic, a Dutch education organization.
In 2016, 112,000 foreign students enrolled in Dutch higher education institutes, representing 2 percent of international students worldwide, a Nuffic report showed. More than 81,000 are enrolled in a full degree program, the remainder is for shorter stays such as Erasmus+, the European Union's student exchange program.
Among those in full degree programs, Germans form the largest group with 22,000 students, though the number has been decreasing over the past five years. China is the second largest country of origin with 4,347 students, followed by Italy (3,347), Belgium (2,976), Britain (2,778) and Greece (2,370).
International students are attracted to the Netherlands by its high-quality education, large number of English-language courses, relatively low tuition fees and cost of living, and the good listing of Dutch universities on international rankings, according to Weima.
In engineering "there has been an exponential growth in international student influx" according to Nuffic, with the largest groups coming from Germany and China.
Xinhua