Injury-riddled Spurs have no answer as Golden State grabs 3-0 series lead
SAN ANTONIO - The Spurs were injured, but Golden State was expecting a fevered fight on the five-time NBA champion's home floor on Saturday night.
Didn't happen. The Warriors' depth and talent settled things early.
Kevin Durant had 33 points and 10 rebounds as Golden State beat injury-riddled San Antonio 120-108 to take a 3-0 lead in the NBA Western Conference final.
"They were going to come out and hit us in the mouth," Durant said of what the Warriors anticipating entering the game. "I think we did a good job of taking that punch and just kept playing."
Golden State has a chance to complete its third straight series sweep in Game 4 at San Antonio on Monday night.
The Warriors are the third team in NBA history to win their first 11 playoff games. Cleveland is 10-0, with a 2-0 lead over Boston in the Eastern Conference final.
"I'm not surprised," Golden State point guard Stephen Curry said of the lead. "Our goal is to win every game we play. We answered a lot of challenges throughout the course of the playoffs and learned a lot of lessons through winning.
"The Spurs challenge you no matter who's out there. You've got to play well to beat them."
Curry added 21 points and became the franchise leader in postseason points, passing Hall of Famer Rick Barry.
Already without leading scorer Kawhi Leonard and starting point guard Tony Parker, the Spurs lost David Lee to a left knee injury in the opening quarter.
"We have to fight with the soldiers we have," San Antonio veteran Manu Ginobili said. "Nobody is going to feel sorry for us."
Lee left with 2:57 remaining in the first, unable to put any weight on his left leg after he landed awkwardly on it following a foul by Draymond Green.
Joel Anthony had to take a free throw in place of Lee, who was taken to the locker room in a wheelchair.
San Antonio still managed to match a postseason high with 33 points in the opening quarter and led by as many as six points in the first half.
"It's not easy; even if we were healthy, they're a great team," San Antonio guard Danny Green said.
"It wouldn't be easy, regardless. With the bodies going down, very much so an uphill battle."
Durant had 19 points in the third quarter.
"I feel I can make every shot I shoot because I shoot good ones and I try to get to my spot," Durant said. "So, when they called my number, I just tried to go out there and be aggressive."
Golden State shot 55 percent from the field and was 11 for 27 on 3-pointers.
"Every time you look up, you're playing against four All-Stars," San Antonio coach Gregg Popovich said.
Tip-ins
Warriors: Curry has 1,774 career postseason points in 69 games to set the franchise record. Barry previously held the franchise record with 1,776 points in 66 games.
Spurs: Ginobili led the Spurs with 21 points, joining Hall of Famer Kareem Abdul-Jabbar as the only players 39 or older to score 20-plus points in a conference final
Associated Press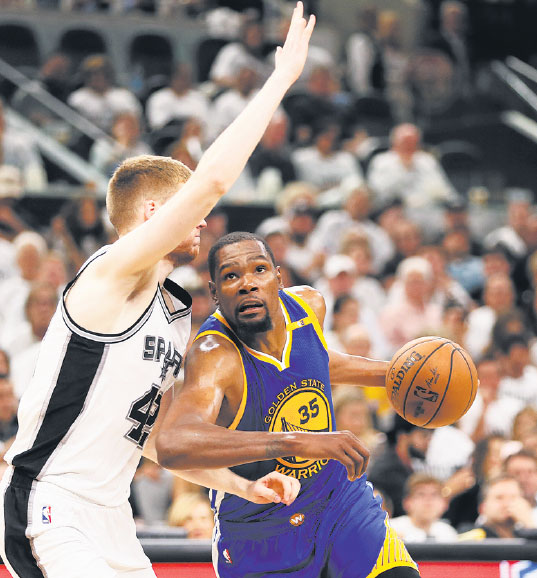 Golden State Warriors' Kevin Durant drives past Davis Bertans of the San Antonio Spurs during the second half of Saturday's Game 3 of their NBA Western Conference final at AT&T Center in San Antonio, Texas. Durant had 33 points to pace the Warriors to a 120-108 win. Soobum Im / Usa Today Sports