One payment tool now provides access to rides from several popular cycle hire services
Bicycle riders in China are benefiting from a new deal in the country's burgeoning bike-sharing sector as six players team up with popular mobile payment tool Alipay.
The 450 million users of Alipay can now access the bike-sharing services of the participating companies - Ofo, Bluegogo, Youon, Hellobike, Funbike and U-Bicycle - via Alipay's mobile app, so they won't have to download each company's app and pay deposits in order to ride.
The service, available in 50 cities, connects Alipay with about 6 million bikes, over half of all the shared bikes in China, says Ant Financial, owner of Alipay, in a statement.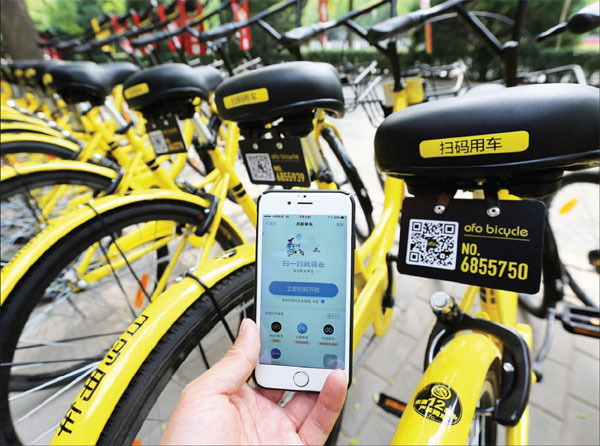 Ofo bike sharing service is accessible through Alipay, after a new deal inked between the mobile payment tool and six of China's bike-sharing companies. Feng Yongbin / China Daily
The move is a counterpunch to WeChat, the messaging/payment app that inked a similar deal with bike-sharing company Mobike in March. Alipay and WeChat are locked in fierce competition to win the offline payment market.
"This saves a lot of space on my smartphone and reduces the time to look for targeted bicycles, for I can choose six types of bikes now," says Zhang Wentao, a Beijing bank worker. He deleted three other bike-sharing apps on his phone.
Under the partnership, Alipay will also provide insurance for each rider who accesses the service via its app.
Many college students and professionals in China are returning to bicycles as a favorite transportation tool for short-distance travel, and a number of startups are scrambling to enable users to borrow and return bikes virtually anywhere at anytime.
Archrivals Ofo and Mobike are backed, respectively, by Ant Financial and Tencent, which owns WeChat.
Zhang Xu, a transportation analyst at Beijing-based Analysys, says WeChat and Alipay hope the alliances will expand the offline use of their mobile payment services.
"For Ofo and Mobike, the deals can accelerate their growth by tapping into tech heavyweights' sizable user bases. But the impact is not decisive. The battle for supremacy still hinges on their bikes' availability and quality," Zhang says.
Customers who use the six companies' apps can still choose WeChat as the payment tool, Zhang says.
The mounting competition also comes as governments in Beijing and Shanghai consider plans to better regulate and facilitate the industry. The plans include capping the number of shared bikes, forbidding children under 12 from riding shared bikes and requiring the bikes to have GPS devices.
Zhou Zhengyu, head of the Beijing Commission of Transportation, says consumers like the services, which encourage enthusiasm for cycling. But restrictions are needed, since some streets and sidewalks are becoming overloaded with bikes, Zhou says.
masi@chinadaily.com.cn