Reaction comes after president said US would not pay for missile system
SEOUL - South Korea on Friday denied US President Donald Trump's comments about the cost of the Terminal High Altitude Area Defense (THAAD) missile defense system that was deployed in the nation's southeast region earlier this week.
An official at Seoul's defense ministry said that there has been no change made in its basic principle that South Korea provides land and infrastructure while the United States side pays the cost to deploy and operate the THAAD system.
Woo Taehee, South Korea's vice trade minister, also said there were no plans to renegotiate a bilateral trade deal and that there have been no working-level talks with the US on the issue.
It came in response to Trump's comments made in an interview with Reuters, in which he said he wants South Korea to pay the cost of THAAD, which he estimated at $1 billion.
Woo said the trade ministry was trying to confirm the details of the media reports.
A senior South Korean government source was quoted by Yonhap news agency as saying the principle, in which the US side pays the cost for the THAAD's operation, was already agreed upon between the two countries.
The agreement was reached between the two countries in July last year when Seoul and Washington announced the decision to deploy one THAAD battery in South Korea by the end of this year.
Early on Wednesday, two mobile launchers, an AN/TPY-2 radar, the fire and control unit and other equipment were transported to a golf course in southeast South Korea, which was designated as the THAAD site.
A THAAD battery is composed of six mobile launchers, the radar, 48 interceptors and the fire and control unit.
With the Wednesday deliveries, an initial operation of the THAAD system can be ensured, the defense ministry said.
Some observers said Trump's remarks could infuriate South Korean voters and spark anti-US sentiment less than two weeks before the country's presidential elections.
In response to Trump's remarks, a spokesman for the leading presidential candidate, Moon Jae-in of the main opposition liberal party, repeated his earlier position that the current government should stop deploying THAAD and defer the decision to the next president. In a statement, Moon's camp questioned whether it was in line with the spirit of the security alliance for the US to unilaterally ask South Korea to pay for the THAAD and to scrap the free trade deal.
Ahn Cheol-soo, a presidential candidate who supports THAAD, said the US should stick to its agreement and cover the costs of the anti-missile system.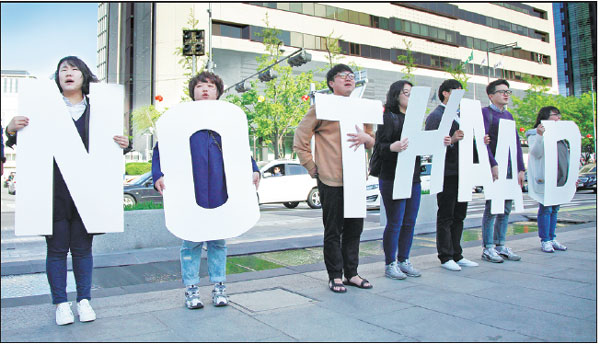 Protesters gather in Seoul, South Korea, on Thursday to demonstrate against the deployment of the US missile system, which was deployed in the southeast of the country this week.Xinhua