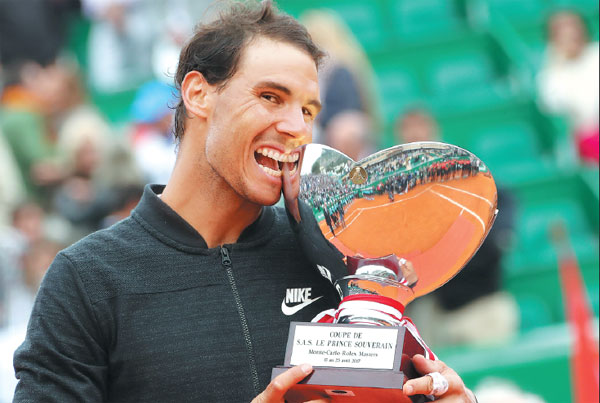 Rafael Nadal of Spain poses with his trophy after winning the Monte Carlo Masters for a record-breaking 10th time with a dominant 6-1, 6-3 defeat of compatriot Albert Ramos-Vinolas on Sunday. Eric Gaillard / Reuters
Spanish superstar roars to 10th title at Monaco's fabled clay tournament
MONACO - As the first men's tennis player in the Open era to win the same title 10 times, Rafael Nadal showed on Sunday he's likely the best ever on clay after easily beating Albert Ramos-Vinolas 6-1, 6-3 in an all-Spanish final at the Monte Carlo Masters.
It was Nadal's 50th career title on his favored surface, moving him one clear of Argentine Guillermo Vilas.
The next big challenge for Nadal will be winning a 10th French Open title. The last of his 14 Grand Slams was three years ago at Roland Garros.
"I want it," Nadal said after Sunday's game, a smile breaking across his face. "I really want Roland Garros, too."
It was Nadal's 70th career title but his first of the season, having lost his previous three finals - two of those to Roger Federer.
The only final the 30-year-old Nadal has lost at Monte Carlo was to Novak Djokovic in 2013.
"Winning 10 times in such an important event like Monte Carlo is something difficult to describe," Nadal said.
"My serve worked great. I was hitting my backhand very well during the whole week. The forehand was better and better every day."
Ramos-Vinolas was never a threat to the defending champion.
Appearing in his first Masters final, the 15th-seeded Ramos-Vinolas saved three break points in his first service game and was down 0-40 in his next.
Nadal served out the set in 30 minutes with an ace.
"He was a little bit better in everything. When he's a little bit better in everything, the difference is what we saw," Ramos-Vinolas said.
"Last time I played against him, I felt that his serve was my chance to put on some pressure. But today I felt that he was serving so good."
Nadal's 29th Masters title moves him one behind Djokovic's record.
He will also have his sights set on a 10th title in Barcelona next week. Nadal's previous career title was there, almost one year ago.
Since then, Federer has beaten the Spaniard in finals at the Australian Open and the Miami Masters, either side of a win for big-serving American Sam Querrey at Acapulco, Mexico.
Federer also beat Nadal in the fourth round at Indian Wells.
"This title arrives in just the right moment, I believe," Nadal said. "Winning here is an important step forward for me."
Ramos-Vinolas had lost his two previous matches to Nadal in straight sets. He saved two match points, but a poor unforced error gave Nadal a third match point and Ramos-Vinolas double-faulted.
Nadal placed his hands on his head as his achievement began to sink in, while his opponent buried his head in a towel.
Nadal's 70 titles are three better than Djokovic, who, at 29, is a year younger. Nadal is fifth on the all-time list, but seven behind John McEnroe.
Further ahead, the 35-year-old Federer has 91; Ivan Lendl 94.
All-time leader Jimmy Connors is a long way away, with 109.
Nadal watched smiling as each of his Monte Carlo trophy presentations over the years was played on the big screen.
The first photo, of him raising the trophy in 2005 as a distinctly shy 18-year-old who was taking tennis by storm, made him laugh.
"The first one here was so special. When I was a kid, I always wanted to play in Monte Carlo. In Spain, Monte Carlo is a very important event," Nadal said.
"There are some moments in a career that are important. The first title on clay makes a big difference. After that, I was confident enough to keep going, winning in Barcelona, in Rome, then in Roland Garros."
He won every year after that, including the next three finals against Federer, who could never crack him on clay. Djokovic did, in the 2013 final.
Stan Wawrinka won in 2014 and Djokovic again in 2015, comfortably beating Nadal in the semis.
Nadal looked emotional when the Spanish national anthem was played.
His first appearance in Monte Carlo was as a 16-year-old in 2003, when he beat Slovak Karol Kucera in the first round.
That win was impressive enough, but he then stunned the tennis world by knocking out defending French Open champion Albert Costa in a second-round match that finished as night was falling.
It was the start of a stellar career on clay that is still going.
Associated Press