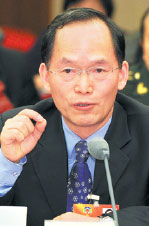 Yao Tandong, a renowned expert on glacial studies. Provided To China Daily
STOCKHOLM - Chinese scientist Yao Tandong received the 2017 Vega Medal in Stockholm on Wednesday, for his contribution to research on glaciers and the environment on the Qinghai-Tibet Plateau.
Swedish King Carl XVI Gustaf gave the award to Yao at the Royal Palace of Stockholm and congratulated him personally for his outstanding achievements.
Sten Hagberg, chairman of the Swedish Society for Anthropology and Geography, says Yao's research on the "Third Pole", monsoon and glaciers are crucial to the understanding of the process of climate change, and affects more than 2 billion people, which is why it is a global topic.
Earlier, SSAG announced Yao as this year's Vega Medal laureate, for his outstanding contribution to glacier research and to the society at large. His research focuses on glaciers and environment on the Qinghai-Tibet Plateau, especially the cryosphere.
Yao is internationally acknowledged as one of the most accomplished scientists in the field of cryospheric study.
He has led several research programs - often together with American, French, German and Japanese scientists - in the last 20 years.
One of his later work shows global warming as causing the decline of glaciers on the Qinghai-Tibet Plateau, interacting with Indian monsoon winds and westerly winds. The research program Third Pole Environment, led by Yao, has become internationally significant.
Xinhua