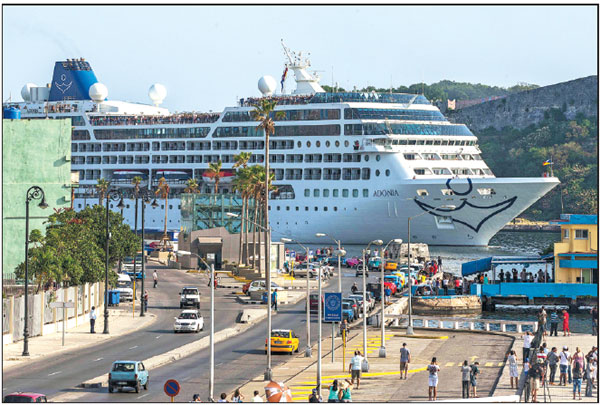 US line Carnival's Adonia cruise ship arrives from Miami in Havana last year. The arrival was the first step toward a future in which thousands of ships a year could cross the Florida Straits.Ismael Francisco / Cubadebate Via Ap
HAVANA - Cuba's tourism industry, now its most dynamic economic sector, is looking to boost visitor numbers by attracting larger cruise ships.
International cruise operators, such as Royal Caribbean, Carnival and Norwegian Cruise Line, have regularly sailed into Cuban ports. The plan is to expand the ports' infrastructure to accommodate larger passenger ships.
Jose Manuel Bisbe, president of the tourism business group Viajes Cuba, said the cruise segment could take off with ships carrying more than 2,000 passengers.
Bisbe said 12 ships have arrived at the ports of Cienfuegos in central Cuba, Santiago de Cuba in the east, and Havana in the west, but none carried more than 1,000 passengers.
That could change this year, Bisbe said.
Cuba's ports, including the above three segments mentioned above and a fourth on the Isle of Youth in the southwest, handle up to 21 cruise ships a week.
But more than 100 cruises from different countries sail the Caribbean Sea each week as part of an industry segment that generates billions of dollars a year. So the potential for growth - or more accurately, recovery - is there, said Bisbe.
Cuba's cruise segment used to receive more than 100,000 passengers a year and generate more than $15 million in revenue, until the country's main cruise client, Spain's Pullmantur, was bought by the US line Royal Caribbean, which was barred by US laws from doing business with Cuba.
The island's cruise tourism dried up between 2005 and 2007, scaling back to a trickle of just 11,000 passengers.
The sector bounced back after Cuba and the United States restored diplomatic relations, and cruise companies that sail the Caribbean, the world's No 1 cruise destination, once again placed the country back on their itineraries despite US sanctions against Cuba.
To get around the restrictions, US cruises to Cuba must offer itineraries with supposed educational, humanitarian or cultural purposes in keeping with US regulations.
Cruise tourism to Cuba picked up slightly last year, with the arrival of 88,000 passengers, and has continued to rise gradually, with some 55,000 passengers arriving in the first two months of this year.
The industry forecasts the total number of cruise passengers will reach 200,000 to 300,000 this year, as Cuba is expected to receive about 4.2 million tourists in total in 2017.