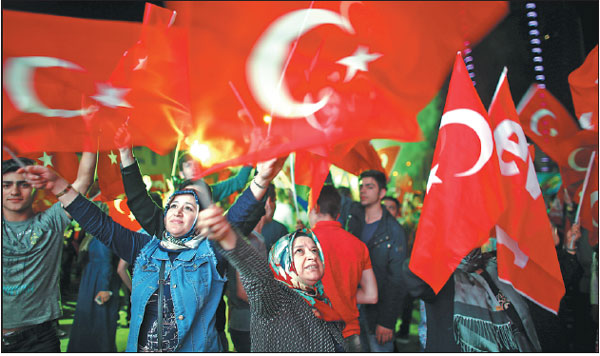 Supporters of Turkish President Tayyip Erdogan celebrate at the ruling Justice and Development Party's headquarters in Izmir, Turkey, on Sunday.Osman Orsal / Reuters
Opponents question legitimacy, calling for a recount of votes
ANKARA - Turkish President Tayyip Erdogan declared victory in a referendum on Sunday to introduce the presidential system in the biggest overhaul of modern Turkish politics. But unofficial results, which the opposition said it would challenge, showed a narrow victory with 51.4 percent of votes cast in favor.
Erdogan said 25 million people had supported the proposal, which will replace Turkey's parliamentary system with an all-powerful presidency and abolish the office of prime minister, giving the "Yes" camp 51.5 percent of the vote.
That appeared short of the decisive victory for which he and the ruling Justice and Development Party, or AKP, had aggressively campaigned. Nevertheless, thousands of flag-waving supporters rallied in Ankara and Istanbul in celebration.
"For the first time in the history of the republic, we are changing our ruling system through civil politics," Erdogan said.
Under the changes, most of which will only come into effect after the next elections due in 2019, the president will appoint the cabinet and an undefined number of vice-presidents, and be able to select and remove senior civil servants without parliamentary approval.
There has been some speculation that Erdogan could call new elections so that his new powers could take effect right away. However, Deputy Prime Minister Mehmet Simsek said there was no such plan, and the elections would still be held in 2019.
In Ankara, where Prime Minister Binali Yildirim addressed cheering supporters, convoys of cars honking horns clogged a main avenue as they headed toward the AK Party's headquarters, their passengers waving flags from the windows.
But opponents questioned the validity of the vote, calling for a recount and challenging a last-minute decision by the electoral authorities to allow ballots to be counted that were not stamped by election officials.
European unease
The head of the main opposition Republican People's Party, or CHP, Kemal Kilicdaroglu, said the legitimacy of the referendum was open to question. His party said it would demand a recount of up to 60 percent of the votes.
The chairman of the electoral board said the decision to allow unstamped ballots to be counted was not unprecedented, as the government had allowed such a move in the past.
European politicians, however, who have had increasingly strained relations with Turkey, expressed concern. The European Commission, the executive body of the European Union, said the close result meant that Ankara should seek "the broadest national consensus" in implementing the vote.
Relations hit a low during the referendum campaign when EU countries, including Germany and the Netherlands, barred Turkish ministers from holding rallies in support of the changes.
Erdogan called the moves "Nazi acts" and said Turkey could reconsider ties with the EU after many years of seeking EU membership.
Former Belgian prime minister Guy Verhofstadt said Erdogan needed to change course, noting the result was very tight. "If Erdogan persists, EU should stop accession talks," he said.