Shopper convenience, user experience and brands' need for ubiquity drive change
China may have emerged as the world's largest consumer market by the end of last year, but only recently have steps to revolutionize the retail-scape been accelerated, with merchants and brands hailing the dawn of so-called New Retail, according to consultancy eMarketer.
New Retail is a term that roughly indicates a combination of the best in physical and online retail. In the words of Jack Ma, founder and chairman of e-commerce behemoth Alibaba Group Holdings, New Retail is making the distinction between physical and virtual commerce obsolete.
A recent example is a strategic partnership announced in February between Alibaba and Bailian Group Co, a retail conglomerate with headquarters in Shanghai. Under the deal, the duo would use their store of consumer data in order to integrate offline stores, merchandise, logistics and payment tools to deliver a better overall shopping experience.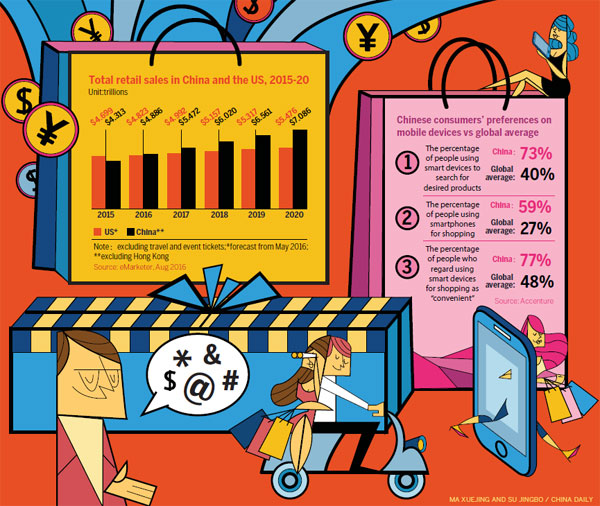 Specifically, Alibaba and Bailian will co-design brick-and-mortar stores that merge online and offline shopping experiences, and combine membership bases to deliver enhanced customer services through technologies such as geo-location, facial recognition and big data-driven customer management systems.
Massive changes are on the way in payment and customer loyalty programs. Alipay, the digital wallet under Alibaba affiliate Ant Financial, will be accepted at 4,700 Bailian stores in 200 Chinese cities and regions. And Bailian's indigenous prepaid cards can be integrated into Alipay as a payment option.
This is the second major push of Alibaba this year to digitize offline malls and fuel growth of increasingly saturated online traffic. In January, it led a $2.6 billion bid to privatize Hong Kong-listed Intime Retail Group Co. Its biggest investment so far in merging online and offline resources came in 2015, when it poured $4.6 billion in electronics chain Suning Commerce Group Co.
Alibaba's archrival JD, the nation's second-largest online marketplace, has joined the ranks and opened three offline outlets at Yonghui Superstores in Beijing, in which the e-commerce company has a 10 percent stake.
It opened stores even in lower-tier cities across China, but instead of a physical showroom of products, they mostly serve as distribution, delivery and after-sales maintenance centers for home appliances.
JD also neatly took a lead by allowing delivery of online orders for fresh, chilled and frozen produce to convenience stores, from which the "last mile" delivery could be made to the customer's door (or collected in-store), once the time and place had been confirmed.
In addition to internet players, traditional malls are stepping up efforts to merge their offline and online resources.
In March, China's top conglomerate Wanda Group joined hands with card processor China UnionPay, where all Wanda partner merchants will co-develop a UnionPay cardholder service system, mobile apps and marketing campaigns that serve shoppers across all Wanda properties.
New Retail is the result of efforts to find solutions to a key set of problems for each side, says Matthew Crabbe, research director for the Asia-Pacific region at consultancy Mintel.
"For the physical store chains, they have been unable to keep up with the growth of online retail. For the online operators, they have struggled to keep delivery infrastructure capacity up with the rapid growth in online shopping demand," he says.
New Retail means more connection and integration - not just for retailers, but also for consumers, manufacturers and other industry players, says Vishal Bali, managing director of Nielsen China.
"It is improvement of developed technology, consumers getting sophisticated, and diversification of industry and platform," Bali says.
The adoption of mobile devices is a major factor in New Retail. By the end of last year, mobile commerce accounted for 55.5 percent of all retail e-commerce in China, said eMarketer. The consultancy also forecast that sales via mobile commerce will likely reach $1.5 trillion in 2019, representing a fourth of the country's overall retail market.
China has overtaken the United States to become the largest mobile payments country, thanks in part to its late-mover advantage. Compared with other developed countries, China does not have an entrenched credit culture and has no problem jumping from cash to mobile payments.
As brick-and-mortar retailers seek to turn their physical stores into an asset instead of a liability to compete with online retailers, they need to heed the demands of today's increasingly mobile phone-dependent consumers, says Andria Cheng, an analyst at eMarketer.
The International Council of Shopping Centers said in a March report that more than three-fifths of 1,200 surveyed consumers said that by 2020 they would prefer to be left alone to do their own thing while in stores, instead of engaging with a salesperson, as long as the store provides easy access to products and navigable online tools.
Consultancy Accenture agreed. It found that over three-fourths of Chinese shoppers prefer to use mobile devices when they make a purchase - 30 percentage points higher than the global average.
Changing consumer behavior is also stoking New Retail. The survey indicated a consumer preference for online-to-offline or O2O channels, with people saying that before making a purchase, they want to virtually see how furnishings and accessories would look in their home.
Separately, more than half said they want to compile a shopping list on a store app and receive a floor map to locate products.
Merchants will need to step up their focus on new ways of engagement to attract and retain younger buyers, who are looking for enhanced digital tools that facilitate their purchases, says Yew Hong Koh, managing director of Accenture's APAC Retail Lead.
By surveying 10,000 people in 13 countries including China, Accenture found that nearly three-fourths of young shoppers are interested in curated subscription-type offerings for fashion. The respondents said they are inclined to turn to merchants that offer such services.
In China, too, three-fourths of respondents said social media networks such as WeChat and Weibo exert a major influence on their shopping habits, according to the study.
As "visual animals", they like video sharing and normally turn to their "influencer" circles - that is, comments on social media and from family and friends, before making a purchase, Koh says.
How are brands responding?
The ubiquity of smartphones has allowed retailers to engage consumers via the internet while they're on the go, and merchants should use that engagement to drive them into their brick-and-mortar stores, says Xu Jian, analyst at consultancy Kantar.
Standardized products are among the first to embrace the omni-channel strategies, because of the lower threshold for logistics and storage, he says.
Brands in the beauty sector are in the forefront. Upon the opening of its Tmall store, France's Guerlain used a live-streamed broadcast on Tmall to secure 50,000 followers for its newly launched store, and it has generated over 4 million "likes" and comments, according to Alizila, Alibaba's company news portal.
hewei@chinadaily.com.cn