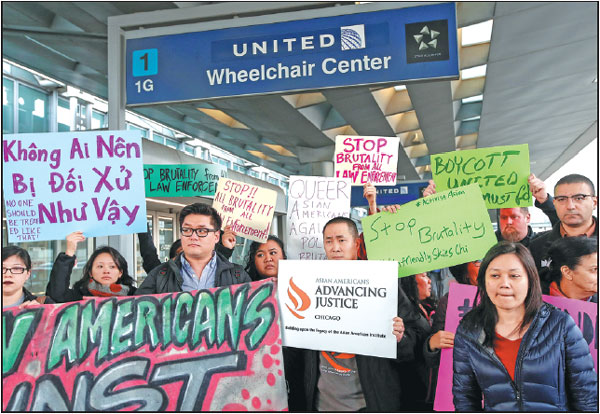 People protest the treatment of Doctor David Dao, who was forcibly removed from a United Airlines flight on Sunday by the Chicago Aviation Police, at O'Hare International Airport in Chicago, Illinois, on Tuesday.Kamil Krzaczynski / Reuters
Two days after an Asian passenger was forcibly dragged off a United Airlines plane at Chicago's O'Hare International Airport and video of the incident spread globally across social media, travel industry and marketing analysts said that the company's reputation has been damaged and the incident could have an impact on the carrier in China.
Chinese netizens expressed fury over the incident that occurred on Sunday. By Tuesday afternoon, the hashtag "United forcibly removes passenger from plane" was the most popular topic on Weibo, China's equivalent of Twitter. It received more than 480 million views and more than 200,000 comments.
Some Chinese social media users accused United of racism and others called for a boycott of the carrier. United began nonstop service to China in 1986 and operates more nonstop US-China flights, and to more cities in China, than any other airline.
Members of US Congress also reacted to the incident, including a call for a hearing.
Congresswoman Grace Meng of New York, in a letter to United CEO Oscar Munoz, said "what this passenger endured was a forcible removal, without cause, in violation of an agreed-upon contract of carriage" and described the incident as "reprehensible".
United Continental Holdings' stock felt the impact of the incident on Tuesday - it dropped 1.1 percent, wiping approximately $250 million off its market capitalization.
The passenger removed from the flight to Louisville, Kentucky, was identified as Doctor David Dao, 69. Dao was overheard saying that he was picked on because he is Chinese, although there were reports on Wednesday claiming that Dao was born and studied in Vietnam before moving to the US. He lives near Louisville.
Matt Rizzetta, CEO at brand agency North 6 Agency, said Chinese consumers are highly discerning and exhibit deeper loyalty to US brands, but they are also harder to bring on board as customers.
"If you're United and you've built all this goodwill and spent all this time and made all these investments to get Chinese customers on your side, good job, pat on the back. But data shows that, especially in the travel space, once you break that trust, it's very difficult to regain," he said.
The United flight had been overbooked and four passengers were asked to voluntarily surrender their seats to accommodate flight attendants who needed to make it to Louisville to staff another flight, according to reports.
Dao refused to leave the plane, saying that he was a doctor and needed to see patients the next morning, and videos taken by passengers showed a security officer from the Chicago Department of Aviation wrestling Dao out of his seat while he screamed. He was dragged down an aisle with blood on his face. The Chicago Police Department later said Dao's head struck an armrest "causing injuries to his face".
United's Munoz also said in his statement on Tuesday that United would conduct a thorough review of the company's policies and communicate results of the review by the end of the month.
On Tuesday, The Los Angeles Times reported another example of bad decision-making and customer treatment by United to have a passenger dragged from an overbooked plane. But the shabby treatment of Geoff Fearns included a threat to place him in handcuffs.
Fearns, 59, is the president of an investment firm. He had to fly to Hawaii last week for a business conference.
Fearns paid about $1,000 for a full-fare, first-class ticket back to Los Angeles. He boarded the aircraft at Lihue Airport on the island of Kauai and took his seat while awaiting takeoff.
Then, Fearns said, a United employee rushed onto the aircraft and informed him that he had to get off the plane because the flight was overfull.
Fearns, like the doctor, held his ground. He was already on the plane, already seated. He shouldn't have to disembark.
"That's when they told me they needed the seat for somebody more important who came at the last minute," Fearns said. "They said they have a priority list and this other person was higher on the list than me.
"I understand you might bump people because a flight is full," Fearns said. "But they didn't say anything at the gate. I was already in the seat. And now they were telling me I had no choice. They said they'd put me in cuffs if they had to."
A United employee, responding to Fearns' complaint that he shouldn't have to miss the flight, compromised by downgrading him to economy class and placing him in the middle seat between a married couple who were in the midst of a nasty fight and refused to be seated next to each other.
Hong Xiao contributed to this story.
amyhe@chinadailyusa.com