Two sides should exchange staff to promote greater understanding among readers and viewers
The relationship between China and Africa is receiving a mixed reaction from the media. Despite a marked increase of reporting internationally on the growing contacts between the two countries, negative reports are also multiplying.
To change this situation, we should strengthen communication between the media of both sides.
Media from Africa, China and Western countries focus on different perspectives when reporting on China-Africa relations, making the partnership appear complicated and difficult to understand.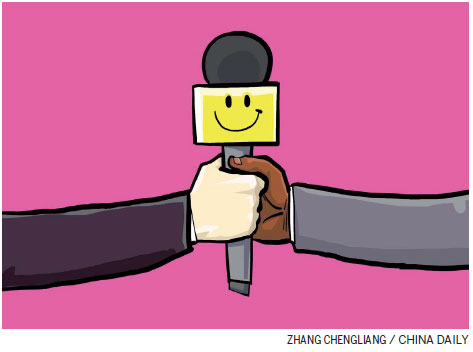 In particular, Western media often exaggerate worries about China's role on the continent, which may be misunderstood by the international community and adversely affect the perceptions of Africans, obstructing long-term development of the relationship.
Therefore, it is imperative that the two partners proactively promote interactions between media and expand and enhance cooperation in order to infuse vitality into the development of bilateral relations.
Generally speaking, the Chinese media are influenced by the West in reporting on China-Africa relations. Chinese people therefore lack a comprehensive knowledge of Africa. Their perception influences their decisions, restricting economic, trade and interpersonal exchanges.
However, the picture is totally different for those who have actually been to Africa and are enchanted by its wonderful landscapes.
Those who have worked and lived in Africa for a while have strong affection for the continent. It is commonly said in China that Africa is a place you are afraid to visit, but you will love it when you do and will miss it when you leave. The media play a significant role in setting an agenda that can have a great influence on public opinion and behavior.
On the other hand, Western media reporting has cast China in a negative way. Reports often imply a "Chinese threat" and "neocolonialism". Western observers report that Chinese enterprises fail to fulfill their social responsibilities and pollute the African environment. In recent years they have criticized China for importing African wildlife products. This has dominated the media, leaving no room for successes in China-Africa economic cooperation.
In this context, some China-invested enterprises have become overcautious when operating in Africa, which goes against the goal of deepening cooperation.
Western media turn a blind eye to the contribution of Chinese enterprises in providing services and creating jobs for local people, as well as their efforts to protect environment. For example, the Shandong Iron and Steel Group invested in an iron ore mining project in Sierra Leone. By the end of September 2016, the project employed 2,738 staff, 2,556 of who were locals, more than 93 percent of the total staff. In addition, nearly six percent were from 20 other countries and less than one percent from the Shandong mining company.
Meanwhile, a number of contractors are involved in the project and have additionally recruited more than 1,000 local people. According to estimates by the Sierra Leone government, the project has created jobs directly or indirectly for more than 5,000 people, giving an impetus to local commercial development.
African nations are similar to, or even the same as, Western countries in terms of ideologies, values, languages and cultures. Most official and commercial African media outlets are small in scale and lack sufficient journalists and editors. As a result, they often reprint news articles from Western media, which helps expand the influence of the West in Africa.
Negative reporting by the West has caused the Chinese government, its enterprises and even self-employed business people to be aware of problems in China-Africa relations. Rules and regulations have been or are being formulated to provide better guidance for enterprises and individuals, which will bring improvements and thus promote bilateral ties. For example, enterprises including PetroChina and Sinopec are making more contributions to the local population. They have become more aware of environmental protection. China itself suffers from pollution brought about by economic development but has promised it will never sully the blue skies of Africa in the same way.
It is evident that all media, including those from the West, also play the role of supervisor, pushing China and Africa to confront and solve problems.
Chinese media focus on positive reporting while Western media do just the opposite. On March 4, Bethany Allen-Ebrahimian published an article entitled "How China Won the War Against Western Media" on the website of Foreign Policy, an American bimonthly magazine. In the article, she said that American media tend to report negative and sensational news and focus on the dark side of events. As she wrote, "With a media environment like this, it's little wonder that Chinese officials and media workers can find what they present as evidence of Western media bias against China."
To improve Chinese and African reporting, we should strengthen cooperation and communication between media of both sides. More African journalists, editors and columnists should be invited to visit China, while more Chinese journalists should be encouraged to visit Africa. On-the-spot coverage will help create better understanding and show the real China and Africa to readers.
Practically, mainstream media of both sides should cooperate in selecting topics and doing joint interviews on major topics, such as the Forum on China-Africa Cooperation. Moreover, it is important to take advantage of new media such as the internet to share information resources, including texts, photographs, video and TV programs.
Also, we should pay attention to communication between scholars and the media. Specializing in particular areas, scholars can give objective explanations of the causes and effects of an event while conducting profound analysis, instead of simply judging between right and wrong. Their voices are convincing and can guide the international media toward taking a rational look at China-Africa relations.
When training media staff in China and Africa, we should inform them of the history, status quo and development direction of China-Africa relations, as well as teaching them about key areas such as economy, infrastructure, finance and production capacity cooperation. Media staff should keep abreast of the international situation and standpoints.
More important, China and Africa should exchange news staff - encouraging Chinese students to learn journalism in Africa at public or personal expense, and encouraging African students to go to China. In this way, we can cultivate journalists with a good knowledge of both sides.
Media play an important role in relations. We should place a high value on the role of media and strengthen cooperation between media on both sides.
The author is deputy editor-in-chief of Social Sciences in China Press under the Chinese Academy of Social Sciences, a research fellow of the Institute of West-Asian and African Studies and a doctoral supervisor of the Graduate School at CASS.
The views on this page do not necessarily reflect those of China Daily.