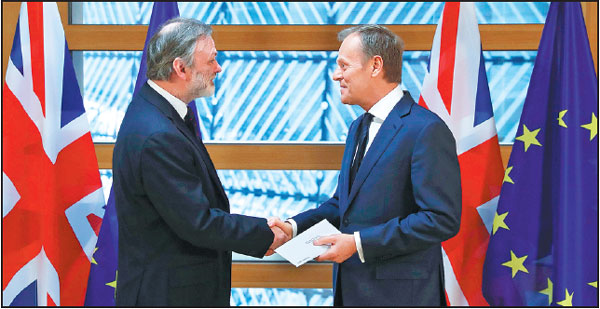 Tim Barrow, Britain's permanent representative to the European Union (left), delivers Prime Minister Theresa May's Brexit letter to EU Council President Donald Tusk in Brussels, Belgium, on Wednesday.Yves Herman / Reuters
PM takes more conciliatory tone after starting Article 50 process
The United Kingdom took its first concrete step toward leaving the European Union when it formally notified the president of the European Council of that intention on Wednesday.
The formal notification triggers a two-year period of intense and complex negotiations and an equally complex period of ratification by the European Parliament and the European Council and it is possible that all 27 national parliaments will also have to ratify the deal.
British Prime Minister Theresa May confirmed the dispatch of the notification to Parliament in London on Wednesday. "The Article 50 process is now under way. The UK is leaving the EU.
"It's a historic moment and there can be no turning back. ... We are going to take control of the things that matter most to us."
May emphasized that she will seek to build a deep and special partnership with the EU in the interests of both parties, as she struck a more conciliatory tone.
Donald Tusk, the president of the European Council, said that he could not pretend that it was a happy day but emphasized that nothing had changed in the UK's relations with the EU.
"We will act as one and start negotiations by focusing on arrangements for an orderly withdrawal," he said.
Tusk will reply to the letter within 48 hours and set out a preliminary timetable for the process.
The first date on the agenda will be an extraordinary summit of the remaining 27 members of the EU on April 29, where they will decide what they will ask of the UK, which has been a member of the trading bloc for 44 years.
Negotiations
The negotiations will begin sometime after and no one knows how they will progress and what kind of obstacles may emerge, and how all of this will affect the British and European economies.
The British currency has fallen by around 15 percent since voters decided to leave the EU but the British economy has continued to grow.
Chinese investors continue to view the British economy positively and are keen to discuss a free trade deal when Britain has left the EU.
While May and her ministers appear confident that all will go well for the UK, others are less positive.
Michael Heseltine, the former Conservative cabinet minister, told the Guardian the move represented the "worst peacetime decision taken by any modern postwar government ... It is what every Conservative Prime Minister I have worked for was determined to avoid."
copy@mail.chinadailyuk.com