Army battles IS in fight marked by explosions and automatic gunfire
MOSUL, Iraq - Iraqi forces attacked four jihadist-held areas in Mosul on Sunday, the latest push in a battle for the city's west that has displaced thousands since it began.
Iraqi forces have recaptured several areas in west Mosul since launching the push to retake it on Feb 19, but their pace slowed recently amid several days of bad weather, which muddies streets and makes air support more difficult.
West Mosul is the largest urban population center still held by the Islamic State group, followed by the city of Raqa in Syria and the town of Tal Afar, which is located between Mosul and the Syrian border.
The fall of west Mosul would effectively mark the demise of IS' cross-border "caliphate", which its leader Abu Bakr al-Baghdadi announced from a mosque in the city in 2014, but the threat posed by the jihadists would still be far from over.
Black smoke billowed over west Mosul on Sunday as Iraqi forces battled IS in a fight marked by explosions and continual automatic weapons fire.
"Federal police and Rapid Response Division forces are attacking Al-Dindan and Al-Dawasa neighborhoods," Iraq's Joint Operations Command said.
Al-Dawasa includes the Nineveh governor's headquarters and other government buildings. Mosul is the capital of Nineveh province.
"Counter-Terrorism Service forces are attacking Al-Sumood and Tal al-Ruman neighborhood, and the advance is still ongoing," the JOC said.
The Counter-Terrorism Service and Rapid Response are two special forces units that have spearheaded operations in the Mosul area, while the federal police are a paramilitary police unit.
200,000 displaced
The Iraqi army is also taking part in the fight for west Mosul, with the 9th Armoured Division advancing through the desert surrounding the city, aiming to cut if off from Tal Afar, farther west.
More than 45,000 people have fled west Mosul since the push to retake it began, while over 200,000 are currently displaced as a result of the battle to retake the city, which was launched on Oct 17, according to the International Organization for Migration.
The IOM figures indicate the number of people who came from west Mosul to sites for the displaced from Feb 25, when the arrivals began, through Sunday.
More than 17,000 people arrived from west Mosul on Feb 28 alone, while over 13,000 came on March 3, according to the IOM.
On Saturday, Iraq's minister of displacement and migration publicly criticized United Nations-led efforts to aid those displaced by the west Mosul fighting, while the UN said that such assistance is the "top priority."
"Unfortunately, there is a clear shortfall in the work of these (UN) organizations," Jassem Mohammed al-Jaff said in a statement.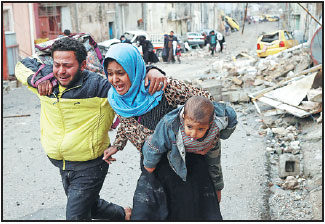 A man and woman cry while carrying a child as they run from the Islamic State controlled part of Mosul towards Iraqi soldiers during a battle in Mosul, Iraq, on Saturday.Reuters