SEATTLE - Airport officials and civil rights lawyers are getting ready for President Donald Trump's new travel ban mindful of the chaos that accompanied his initial executive order but hopeful the forthcoming version will be rolled out in a more orderly way.
The new order was expected as soon as Wednesday. A draft suggested it would target people from six of the original seven predominantly Muslim countries but would exempt travelers who already have visas to come to the United States.
The latest draft in circulation no longer includes Iraq. Four officials told The Associated Press that the decision followed pressure from the Pentagon and State Department, which had urged the White House to reconsider Iraq's inclusion on the list given its key role in fighting the Islamic State group.
Since last month's ban, which courts have put on hold, a section of the international arrivals area at Dulles International Airport outside the nation's capital has been transformed into a virtual law firm, with legal volunteers ready to greet travelers from affected countries and ask if they saw anyone being detained.
Similar efforts are underway at other airports, including Seattle-Tacoma International, where officials have drawn up plans for crowd control after thousands protested the original ban.
"The plan is to be as ready as possible," said Lindsay Nash, an immigration law professor at Cardozo School of Law in New York who has been helping prepare emergency petitions on behalf of those who might be detained.
Trump's initial action, issued on Jan 27, temporarily barred citizens of Iran, Iraq, Syria, Yemen, Somalia, Sudan and Libya from coming to the US and halted acceptance of all refugees.
The president said his administration would review vetting procedures amid concerns about terrorism in those seven nations.
Protesters flooded US airports that weekend, seeking to free travelers detained by customs officials amid confusion about who could enter the country, including US permanent residents known as green-card holders.
Attorneys also challenged the order in court, including officials from Washington state. That lawsuit, which Minnesota joined, resulted in a federal judge temporarily blocking the government from enforcing the travel ban, a decision unanimously upheld by a panel of the 9th US Circuit Court of Appeals.
Many civil rights lawyers and activists have said they don't believe a new order would cure all the constitutional problems of the original, including the claim that it was motivated by anti-Muslim discrimination.
Last week, analysts at the Homeland Security Department's intelligence arm found insufficient evidence that citizens of the seven Muslim-majority countries pose a terror threat to the US.
"It's not enough to just tweak an order and not change the nature of why it was issued in the first place," said Rula Aoun, director of the Arab American Civil Rights League in Dearborn, Michigan, which sued over the initial ban and is prepared to do the same with the rewrite if necessary.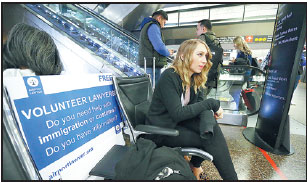 A volunteer law student from the University of Washington sits at a station in the arrivals hall at Seattle-Tacoma International Airport on Tuesday.Ted Warren / Associated Press