China voted against sanctions on Syria for alleged uses of chemical weapons, saying that the draft resolution to impose sanctions on Syria was forced to a vote while UN Security Council members still had differences in opinion.
The draft resolution was proposed by France, Britain and the US. It would punish individuals and entities related to the Syrian government for allegations of chemical weapon attacks in three instances.
The probe was made jointly by the UN and the Organization for the Prohibition of Chemical Weapons (OPCW).
Nine Council members voted in favor of the draft resolution. China, Russia and Bolivia voted against it. Kazakhstan, Egypt, Ethiopia abstained.
"China is deeply concerned about and strongly condemns the use of chemical weapons (that) occurred within Syria," said Liu Jieyi, China's ambassador to the United Nations, after the vote.
Liu said that because the current investigation into the use of chemical weapons is still ongoing, it is "too early to reach a final conclusion".
"This is in no way helpful to finding a solution to the question of chemical weapons in Syria, nor is it conducive to the peace talks in Geneva and the political process of the question of Syria as a whole," he said.
Liu said China opposes the use of chemical weapons by any state, organization and individual under any circumstances and calls for punishment in all instances of chemical weapons use.
"What should be done by all members of the council [is to] deeply reflect on the situation in Syria, the situation in the Middle East, how the situation has been allowed to degenerate to where it is now, and should reflect on the role that each and every one of us played - what parts they played are good and can be praised, and what cannot," he said.
"Only in so doing can we be acting responsibly with regards to the Syrian people and the people in the region," he added.
Russian Deputy Ambassador Vladimir Safronkov said the draft was put to a vote based on a doctrine of Western states in spite of the efforts taken in Geneva to settle the Syrian crisis.
"We see this as an attempt to retard and undermine the current political and diplomatic efforts," he said.
Nikki Haley, US ambassador to the UN, told the council that no one should hesitate to impose consequences for chemical weapon attacks.
Xinhua contributed to this story.
amyhe@chinadailyusa.com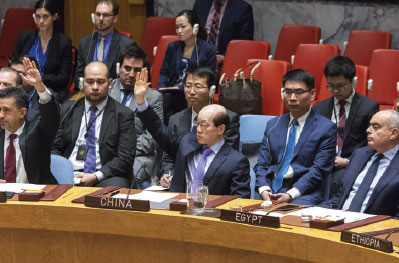 China voted against a draft resolution aiming to establish a sanctions regime over use of chemicals weapons in Syria at a UN Security Council meeting at the UN headquarters in New York on Tuesday.   Li Muzi / Xinhua