SANTA MONICA - Moonlight triumphed at the Film Independent Spirit Awards with six wins on Saturday, besting grief drama Manchester by the Sea ahead of Sunday's Oscars ceremony.
Moonlight, about a black boy in an impoverished Miami neighborhood as he grapples with his sexuality, was named best feature, the top award. It also won for best director and best screenplay for writer-director Barry Jenkins, and an ensemble cast award.
"This movie exists as a beacon of inclusivity," Jenkins said.
Moonlight will be competing for eight Oscars, including best picture.
The Independent Spirit Awards, held on California's Santa Monica Beach on the day before Hollywood's glitzy Oscars ceremony, honor the year's best achievements in independent film made on small budgets.
The last three winners of the Spirit Awards - Spotlight, Birdman and 12 Years a Slave - all went on to win the best picture Oscar, the highest honor in the movie industry.
But this year, some of the films getting the most awards buzz, like La La Land, Lion and Hidden Figures, were not eligible for Spirit Awards.
Host Nick Kroll and John Mulaney maintained a rigorously irreverent tone through a ceremony often punctuated by belly laughs. In their opening monologue, Kroll mockingly defended the common charge of "liberal elitism" often thrown at Hollywood events like the Spirits.
"We're not in a bubble. We're in a tent," said Kroll, referring to the Spirits' Santa Monica home. "We're fringe artists on a California beach. If we leaned any further to the left, we'd topple into the ocean."
There was also criticism of President Donald Trump's administration, likely to also be a theme at the Oscars.
Casey Affleck, who won for his lead role as a grieving janitor in Manchester by the Sea, used his acceptance speech to say "the policies of this administration are abhorrent and they won't last."
O.J.: Made in America, a look at the 1995 murder trial of former US football star O. J. Simpson, won best documentary over Ava DuVernay's 13th and Raoul Peck's I Am Not Your Negro. All three are also Oscar-nominated.
Other winners included supporting actor Ben Foster for Hell or High Water, and Molly Shannon for her supporting role in Other People.
Coming-of-age tale American Honey went home empty-handed despite getting six nominations.
Reuters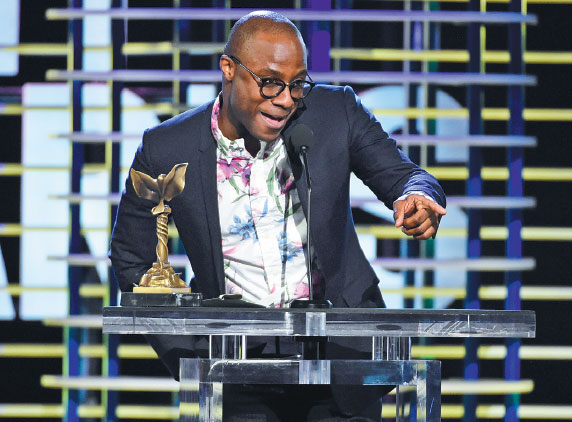 Barry Jenkins accepts the award for best director for Moonlight at the Film Independent Spirit Awards on Saturday in Santa Monica, California. Chris Pizzello / Associated Press