Huawei Technologies Co Ltd, the world's third-biggest smartphone maker, unveiled a new handset on Tuesday targeting mobile gaming enthusiasts and virtual reality camera lovers.
The Honor V9 came out as the company's sub-brand Honor said it will focus more on services and new technologies.
That came as the group deals with surging component costs and competes with Samsung Electronics Co Ltd in the high-end market.
Honor V9 comes with a 5.7-inch 2K screen. Its vision and sound effects have been optimized for Onmyoji, a popular mobile game developed by NetEase Inc.
Priced from 2,599 yuan ($377) in the Chinese mainland market, the Honor V9 enables consumers to build 3-D digital objects.
Huawei also unveiled a 360-degree panoramic camera that can be attached to Honor V9 to shoot VR videos and pictures.
Zhao Ming, president of Honor, said that although online sales of handsets were slowing down in China, he was still optimistic about China's internet-oriented smartphone brands.
"Our marketing spending is only about one-fourth that of our rivals. We care more about services and new technologies, which will give us an edge," he said.
Xiang Ligang, a smartphone expert and CEO of telecom industry website cctime.com, said that due to the continuing depreciation of the yuan, the cost of smartphone storage, display and chips had all gone up.
James Yan, research director at Counterpoint Technology Market Research, said Honor was trying to build up its brand image by striking a balance between quality and price.
masi@chinadaily.com.cn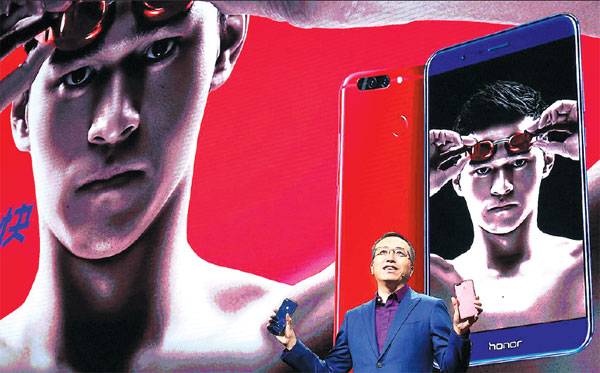 Zhao Ming, president of Honor, one of the major brands of Huawei Technologies Co, unveils the new Honor V9 smartphone in Beijing on Tuesday. Provided to China Daily
、