China's outbound direct investment dropped precipitously in January in offshore property development and in cultural, sports and entertainment businesses, the Ministry of Commerce said on Thursday.
The country's ODI in the two categories plunged 84 percent and 93 percent, respectively, in January, ministry figures showed.
But the drops should not be seen as a reversal for the nation's Going Global strategy, according to a ministry official. They were due in part to statistical and seasonal factors and a government decision to readjust the nation's ODI direction to focus on the real economy and emerging industries, according to government officials and academic experts.
The country's overall nonfinancial ODI slumped 35.7 percent year on year in January to 53.27 billion yuan ($7.73 billion), which is the weakest in 16 months, the ministry said.
Sun Jiwen, a ministry spokesman, said the ODI dropped mainly because China reached a high level of investment in 2016 and because of the seasonal effects of an early Spring Festival last month.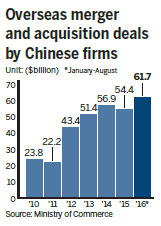 "Even though a declining ODI figure occurred in January, the country's overall investment portfolio is improving," Sun said. "The ministry will support authentic, legal outbound investment by capable and qualified Chinese companies."
The Chinese government had already warned that some foreign investment opportunities in property development, hotels, sport clubs, film companies and entertainment business could lead to irrational investment and even illegal activities, said Tu Xinquan, a professor at the University of International Business and Economics in Beijing.
"Some domestic companies made overseas acquisitions in these sectors under heavy debt," said Tu. "Investing in these service-related businesses could also involve money laundering. The authority therefore has elevated the review requirements to ensure the deals are authentic."
In November, government branches including the National Development and Reform Commission and the State Administration of Foreign Exchange jointly announced that they would support "real and reasonable" mergers and acquisitions in overseas markets.
Chinese investment in global manufacturing and information technology saw year-on-year growth of 79.4 percent and 33.1 percent, respectively, in January.
Investments in countries along the Belt and Road Initiative routes also have become part of the picture, taking up 10.6 percent of China's total ODI last month.
Sun said Chinese companies tended to have more diversified foreign investment and financing channels in the United States and Europe. China's two largest foreign acquisitions in January were both completed with financing from overseas, with a combined value of $8.38 billion.
"As the winds of trade protectionism blow hard, many developed markets, including the United States, Germany, Italy and France, have either set or prepared to set restrictions on Chinese investment," said Zhu Feng, director of the Institute of International Studies at Nanjing University.
Shao Kaiwen, deputy general manager of China Shipbuilding Industry Corp, one of the country's biggest shipbuilders by sales revenue, said the group currently has no intention to acquire foreign companies. The exchange rate between the renminbi and the US dollar is not favorable, he said, and there are other risks, like inflation, political factors that may crop up this year from newly elected governments in Europe, and the possibility of economic overheating.
Zheng Yiran contributed to this story.
zhongnan@chinadaily.com.cn