Company says $1b plant will be built in stages, starting with a smaller facility
The Chinese-funded luxury electric car startup Faraday Future said on Feb 3 that it remains committed to its planned $1 billion plant in Nevada in the United States, but will build the factory in phases and start with a much smaller facility.
Faraday, an affiliate of Beijing-based internet major LeEco, said in a statement to China Daily that it is adopting a multi-stage manufacturing strategy for its 27.87-hectare auto plant.
Qiong Liu, city manager of North Las Vegas, said on Feb 2 that Faraday will build a 6.04-hectare facility later this year. "I don't think they are downsizing, but instead they will construct the plant in phases," Liu said.
According to Liu, Faraday is completing engineering work on the factory and aims to have the shell of the building ready by the end of August and the rest of the building done by the end of October.
Faraday expects to start testing a vehicle later this year and to "start production in 2018", she added.
Faraday said it is scheduled to start constructing the second stage of the plant later this year. A cash crunch at LeEco and Faraday's missed payments to a contractor working on the factory last year spurred skepticism about the company. In November, Nevada State Treasurer Dan Schwartz expressed concerns about Faraday's ability to complete the project.
In 2015, Nevada lawmakers approved an incentive package valued at about $215 million for the plant. Liu said the incentives are structured so that they won't be paid out until and unless the company meets certain requirements.
Faraday unveiled its first production vehicle, called the FF91, at the Consumer Electronics Show in Las Vegas in January.
Eric Paul Dennis of the Center for Automotive Research in Ann Arbor, Michigan, says that Faraday is becoming more realistic about what it can accomplish. "Their initial plans to build a mega-factory and introduce multiple models on a short timetable were very risky and probably impossible," he says.
"Their recent restructuring makes me think they are beginning to mature as a company. Starting small, focusing on quality and responding to the market reception of one or two models is a better approach to establishing a viable auto operation," Dennis says.
Contact the writers through masi@chinadaily.com.cn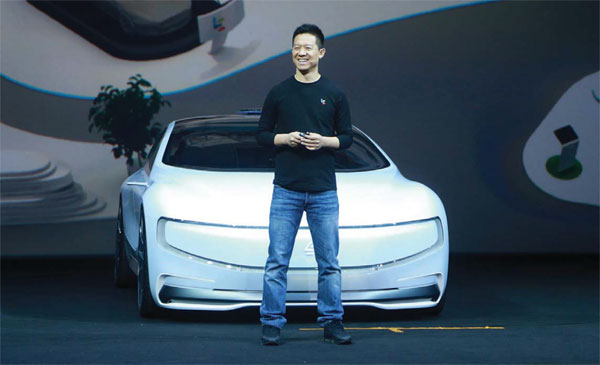 Jia Yueting, head of Le Holdings Co Ltd, unveils an all-electric battery concept car during a ceremony in Beijing. Provided to China Daily