Lawmakers look set to approve a bill on Wednesday empowering Prime Minister Theresa May to start Brexit negotiations, in a major step toward the United Kingdom leaving the European Union.
Seven months after the historic referendum vote to leave the 28-nation bloc, the House of Commons is expected to grant its approval for May to trigger Article 50 of the EU's Lisbon Treaty.
The bill must now still pass through the House of Lords, where there may be more opposition from unelected peers less concerned about defying the majority of voters who backed Brexit.
But if, as expected, the bill passes its Commons stage in a vote late on Wednesday, May will be significantly closer to her goal of starting the two-year exit talks by the end of March.
Under pressure from MPs, the government was forced to concede on Tuesday that Parliament would have a vote on the final Brexit deal before it is signed off.
The move helped fend off a rebellion by pro-European members of May's Conservative party, who had threatened to back an opposition amendment to the two-clause bill.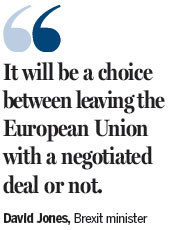 But ministers stressed that if lawmakers rejected the final deal, the alternative was not to return to negotiations but to leave the EU without an agreement.
"This will be a meaningful vote. It will be a choice between leaving the European Union with a negotiated deal or not," Brexit Minister David Jones said.
More than two-thirds of MPs campaigned against Brexit in the June referendum, but after 52 percent of Britons voted to leave the EU, most have reluctantly accepted that they must uphold the result.
Meanwhile, support for Scottish independence rose after May came out in favor of the country making a clean break with the EU, a BMG survey for Herald Scotland showed.
The survey indicated 49 percent of Scots support independence with 51 percent opposing it, after "don't know" votes are removed, the newspaper said.
A similar survey conducted last month showed roughly the same result as the 2014 Scottish independence referendum, with 45.5 percent in favor of independence and 54.5 percent against, the newspaper said.
AFP - Reuters