Former French president Nicolas Sarkozy is to face trial on charges of illegally financing his failed 2012 re-election bid, causing more trouble for the country's right-wing Republicans party.
The prosecution claims Sarkozy spent nearly double the legal limit of $24 million on his lavish campaign, using false billing from a public relations firm called Bygmalion.
A legal source said on Tuesday that one of two investigating magistrates in charge of the case, Serge Tournaire, had decided on Friday that the case should go to trial.
Sarkozy's lawyer announced plans to appeal the decision.
Bygmalion charged $16.2 million in campaign events to Sarkozy's right-wing party - which at the time was called the UMP, but has since been renamed the Republicans - instead of billing the president's campaign.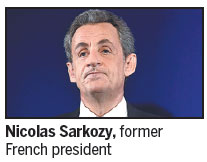 Sarkozy, who failed in a presidential comeback bid last year, has said he knew nothing about the billing.
Only one other president - Jacques Chirac - has been tried in France's Fifth Republic, which was founded in 1958. He was give a two-year suspended jail term in 2011 over a fake jobs scandal.
News of Sarkozy's trial comes as the Republicans' candidate for this year's presidential election, Francois Fillon, faces his own scandal over parliamentary jobs for his family.
Fillon apologized on Monday for employing his wife for more than 15 years as an aide - which is legal - but continued to deny the more serious allegations that she barely worked for her average monthly salary of around $3,900.