Prince William may be closer in line to the British throne, but brother Prince Harry bested him at a finish line.
Harry, William and William's wife, Kate, the Duchess of Cambridge, raced a 50-meter sprint against each other on Sunday at London's Queen Elizabeth Olympic Park as they promoted a mental health campaign called Heads Together.
Cheered by track stars and amateur runners training for April's London Marathon, Harry crossed the line a stride ahead of his older brother. William and third-place Kate hugged at the finish.
William, perhaps aware he would be beat by his more athletic sibling, had quipped moments before the start: "Oh, my hamstring!"
One spectator, women's marathon world record-holder Paula Radcliffe, joked afterward that William should have been disqualified for straying into Kate's lane.
Meanwhile, Queen Elizabeth II, the world's longest reigning sovereign, on Monday set a new record as the first British monarch to reach her sapphire jubilee, with 65 years on the throne.
The queen, now 90, rose to the throne in 1952 at the age of 25 upon the premature death of her father, King George VI.
As with previous milestones in her long reign, Queen Elizabeth is likely to spend Accession Day privately at her Sandringham Estate in Norfolk, eastern England.
On Sunday, however, she was seen smiling as well-wishers gave her flowers outside church.
Despite her reluctance to celebrate publicly, the occasion will be marked in Britain.
At the Tower of London, in the capital's Green Park and all around the kingdom, gun salutes will be fired in tribute.
Sapphire is the 65th anniversary gemstone and a photograph has been reissued of the sovereign wearing a suite of sapphire jewelry given to her by her father as a wedding gift in 1947.
The 2014 portrait by David Bailey shows her wearing the glittering necklace, dating from 1850 and made of 16 large oblong sapphires surrounded by diamonds.
"She has very kind eyes with a mischievous glint. I've always liked strong women, and she is a very strong woman," the photographer said at the time.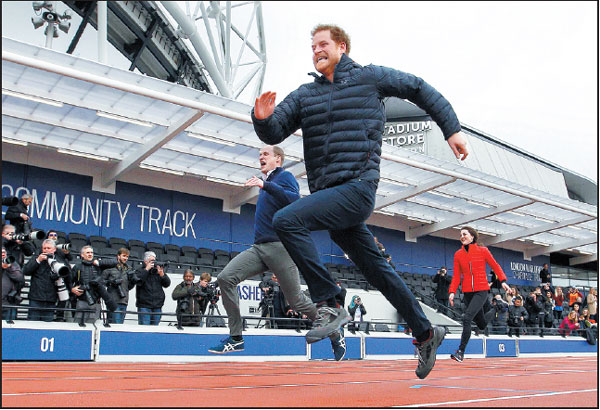 Britain's Prince William, Kate, the Duchess of Cambridge, and Prince Harry take part in a relay race to promote a charity in London on Sunday.Alastair Grant / Reuters
(China Daily 02/07/2017 page12)