The man who sent the NBA to new heights in China was recognized by the city where he played and by his team, the Houston Rockets, which will retire his jersey on Friday.
On Thursday afternoon, Houston Mayor Sylvester Turner held a special reception in honor of Yao Ming at City Hall.
"It's all such a great honor," Yao said. "If anyone asked me on the very first day in Houston 15 years ago, to have an event like this, I would say there's no way."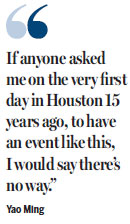 Yao was in the city to attend a ceremony at which the Rockets will retire his No. 11 jersey. The ceremony will be held at halftime during the game between the Rockets and the Chicago Bulls on Friday night. It will be broadcast in the US and China.
Yao, an eight-time NBA All-Star, will join fellow Rockets' Hall of Famers Calvin Murphy, Moses Malone, Clyde Drexler and Hakeem Olajuwon in having his jersey hung from the rafters.
"Although we wish you could keep wearing that jersey for our Rockets forever and ever, we celebrate this retirement as a bookend to the incredible athletic career of a true Houstonian," Turner said at the reception.
"Whether it is here, or in China, wherever you go, we trust that Houston will be well-represented."
"Houston became famous in China because of you, Mr. Yao Ming," Chinese Consulate General Li Qiangmin said.
"Yao Ming has set a good model for us, to be a world talent," Li said. "We should keep an open mind to the world. ... We hope other countries will also keep their doors open to us, so we can cooperate together toward a bright future."
"Just the very idea that he's the very first Chinese player who is not only a Hall of Famer but to have his jersey retired by his professional team is something he and we are proud of. It's a partnership since 2002, and it will last as long as we are together," Tad Brown, CEO of Houston Rockets, said during a previous interview.
The 7-foot-6 Yao was with the Rockets from 2002 to 2011 for eight seasons, where he averaged 19 points and nine rebounds a game. He was elected to the basketball Hall of Fame in April. His fame helped to make the National Basketball Association popular in China, which is the league largest market outside the US.
Days before the official program on Friday, Houston was already abuzz with talks about Yao's return to Houston, his home for a decade.
Yao's image began to appear on the popular Chinese social media WeChat when he arrived in Houston on Tuesday on Air China - some enthusiastic fellow travelers snapped photos of him and posted it.
Following the reception hosted by the mayor, Yao also attended a dinner banquet hosted by the Yao Ming Fan Club, where he met with some of his loyal fans who cheered him over the years during.
Tiffany Wang in Houston contributed to this story.