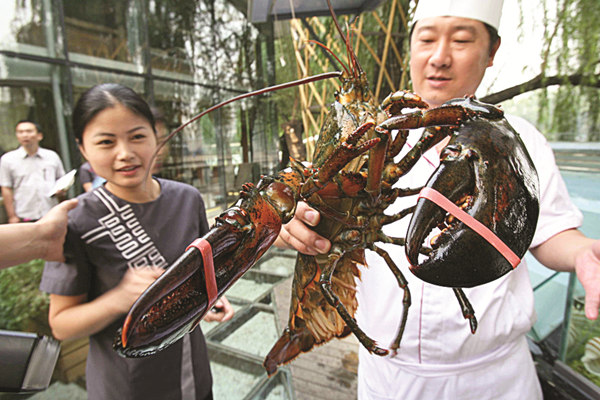 North American lobsters such as this one from Canada are showing up on dinner tables for Chinese NewYear. Provided to China Daily
Will lobster one day become a Chinese New Year dinner staple like fish and dumplings?
North American distributors and Chinese e-commerce platforms are seeing a growing demand from China for Western lobster.
Despite lobster prices reaching highs in the winter due to smaller catches, China's appetite rises significantly ahead of the Lunar New Year and further drives prices up.
The Chinese name for lobster is "dragon prawn". Once cooked, the "red dragon" makes a delicious dish with lucky meaning. More Chinese are adding garlic steamed lobster and lobster congee to the most important meal of the year.
Distributors are also seeing an escalating competition. A Chinese company even chartered a plane this month to fly lobsters from Canada to China.
The Boston Lobster Co, founded in 1986, discovered the huge Chinese market six years ago. The company saw that many Chinese people who traveled to Boston, or local Chinese Americans who were going back China to visit family, would order live lobsters to take home.
Lobsters from the US and Canada are the same species, called the American lobster (Homarus americanus). However, for an undetectable reason, lobsters from North America are called "Boston lobsters" in China. Therefore, it seems that Chinese anticipate those red dragons from Beantown will arrive with extra deliciousness.
E-commerce is playing a big role in Chinese consumption of American lobsters. Retailers such as JD.com, China's second-largest e-commerce platform after Alibaba's Taobao, has been doing same-day or even two-hour delivery in major cities that could reduce the precious "out-of-water" time for live lobsters.
Josh Gartner, vice-president of international corporate affairs at JD.com, said the company has seen more than an eightfold increase in the sales of US fresh food in the three weeks leading up to the Spring Festival compared to last year.
He told China Daily there has been "an impressive, more-than-15-fold growth in sales of American lobsters", he told China Daily.
There are tens of thousands online reviews for a "Boston lobster". People share photos taken of the lobster next to their flip-flops to show how big it is. Some have their children pose for photos with the red dragon.
Canada is one of the big winners when it comes to satisfying China's palate.
In 2011, the live lobsters exported to China by Nova Scotia represented only 6 percent of the province's lobster exports. By the end of November 2016, that share had climbed to 21 percent.
The increase in Chinese demand for live lobster from Canada is a welcome development for Canadian fishery workers and exporters, said John Bitzan, country risk analyst at Export Development Canada.
"We believe that it speaks to a greater awareness of Canadian lobster in the Chinese market," he said. "It is also a testament to the growing purchasing power of the Chinese consumers."
American lobsters are sold for $20 to $25 per pound on JD.com. A small lobster is about a pound, and a larger one is about 2 pounds.
In comparison, they currently sell for about $12 per pound in North America, which is the highest price of the year. They go for $5 in the summer.
In restaurants in China, a red dragon could cost more than $100.
"I think there will be a dip in the overall price after the Chinese New Year," said Matt Egan, vice-president of sales at the Boston Lobster Co.
A bigger pie doesn't mean a larger piece for everyone.
Egan said his company has been experiencing a decline in exports to China going back a year and a half, after many other distributors discovered China.
"There is too much competition for the Chinese market," he said.