A devalued pound and job opportunities are cited as reasons for the UK's popularity, Zhao Xinying reports.
The vote to leave the European Union has not damaged the United Kingdom's appeal among Chinese as a popular destination for overseas study.
While some reports have predicted a drop in the number of EU nationals seeking places on some of the most popular courses at Britain's leading universities, applications from Chinese students look set to increase.
According to the British Council, the number of visas issued to students from the Chinese mainland has grown during the past decade. In the first nine months of 2016, almost 73,000 students from China obtained a visa from Britain, a 9 percent increase year-on-year.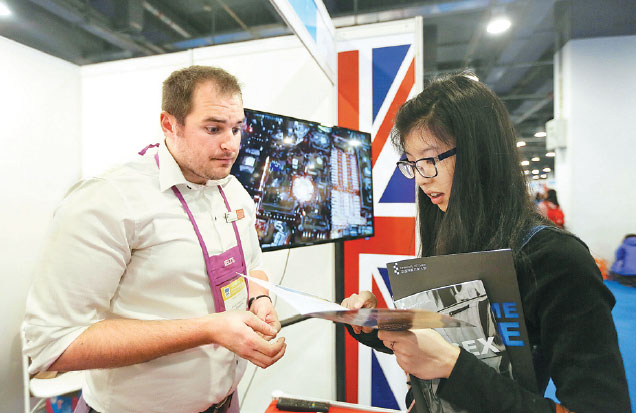 A Chinese college student checks details about studying in the United Kingdom at the China Education Expo in Beijing in October. CFP
"As the upsurge of studying overseas continues among Chinese nationals, Britain will remain one of the top destinations," says He Chugang, general manager of the South China region at Amber Education, an overseas-study consultancy.
"We expect that the number of Chinese applying to study in the UK will keep on growing in the future."
A survey of 1,000 international students published in the UK's Independent newspaper in the wake of last June's Brexit vote showed almost 30 percent would not consider applying to British universities as they believed that the country was "less welcoming" as a result of the decision.
Those surveyed said they were seeking education elsewhere, such as Canada, Germany, Australia or the United States.
But Amber Education's He says applications for studies at UK universities "remains strong" with no evidence that the Brexit decision has had an impact on where students in China want to locate.
Gu Zeqing, a 23-year-old translation studies student from Nantong, Jiangsu province, says he chose Britain partly because of the Brexit result.
"I'm not affected by the Brexit at all," said Gu, who has applied to do a master's program in the UK.
"On the contrary, it even has one benefit for Chinese students as the devalued pound means lower tuition fees."
Lin Ying, general manager of the Britain section at JJL Overseas Education, an overseas-study consultancy in Beijing, says another possible benefit of the Brexit is that a decline in the number of EU applicants to British universities potentially means more places for students from further afield. In the longer term, it could also improve their job prospects, He says.
He says students from the EU who previously enjoyed preferential employment policies in the UK are now "standing on the same starting line" as international students.
"This means that if Chinese students decide to hunt for jobs in Britain after graduation, they will have more opportunities to compete for the posts previously designed for or occupied by graduates from the EU," he said.
Contact the writer at zhaoxinying@chinadaily.com.cn