As millions prepare to head home for Spring Festival, many single men and woman are expecting a grilling from relatives when they get there, according to a survey.
A report based on an online poll of nearly 130,000 singletons nationwide shows the number who complain about parental pressure over their marital status during the Chinese New Year holiday is rising.
Nearly 60 percent of men and 50 percent of women said they face such pressure, according to the 2016 Survey Report on Chinese Views of Relationships and Marriage, released by dating website Jiayuan. The figures in 2014 were 33 percent and 23 percent respectively, it said.
"My mother, aunts, uncles and even my grandmother have helped to arrange four blind dates for me with men they believe might be a good match during the seven-day holiday," said Lin Qing, a 33-year-old bank clerk in Shanghai.
"Sometimes they also show me photos of a neighbor my age who just got married or of one of their friends who has just become a grandmother, which is their way of telling me that I shouldn't waste any more time."
The survey highlights a collective anxiety among those born in the 1950s, who experienced social instabilities such as a shortage of necessities and getting laid-off in their prime, according to Xue Yali, a researcher with the Shanghai Academy of Social Sciences' Family Research Center.
"Because of their experiences, they dislike uncertainty of the future and are afraid that their children will suffer losses and failures," Xue said. "They usually can't help with their career development, and can only help to urge them to start a family."
Another reason for the rising trend, she said, is that the topic of "leftover" men and women has had a lot of media coverage in recent years, so people feel more pressure to look for a spouse before it is too late.
The survey found that people in Jiangxi province feel the most pressure to get married, with 63 percent of both men and women complaining about the issue. The problem is also acute in Henan and Anhui provinces, the report said.
"This is probably because people in these regions still hold to the conservative idea that the best age for marriage is in the early 20s, despite the fact young people are postponing marriage," said Meng Yuan, head of public relations in Jiayuan.
The report also said the biggest turnoffs when looking for a spouse are men finding women materialistic, unreasonable or narrow-minded, and women finding men stingy, narrow-minded and lacking masculinity.
zhouwenting@chinadaily.com.cn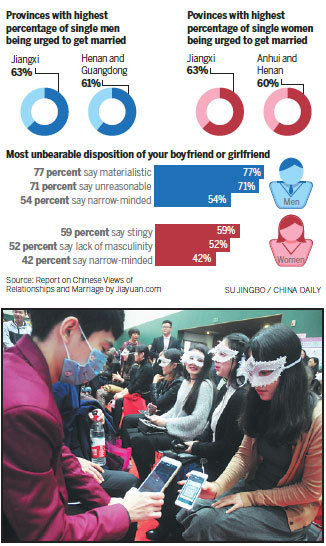 A man adds a woman to his contact list on an insant messaging app at a group date event in Hangzhou, Zhejiang province, in November last year.Lian Guoqing / For China Daily