Even if Gordon Hayward isn't concerned with his All-Star candidacy, he put a signature performance on his resume in a huge win for the Utah Jazz on Tuesday night.
Hayward went blow for blow with LeBron James in the second half to help Utah beat the defending champion Cleveland Cavaliers 100-92.
Hayward scored 28 points and went back and forth with the four-time MVP during a decisive third quarter.
James brought the Cavs back from a 15-point halftime deficit before Hayward drove the lead back to 14.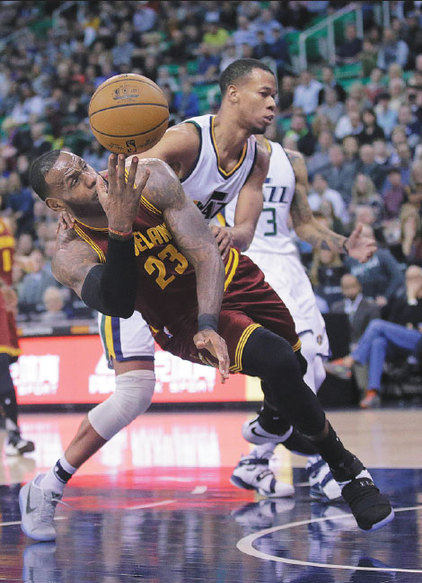 Utah Jazz guard Rodney Hood fouls Cleveland Cavaliers forward LeBron James during the first half of Tuesday's game in Salt Lake City. The Jazz beat the Cavs 100-92. Rick Bowmer / AP
"Gordon's level being so consistently high is what's separating him right now," Jazz coach Quin Snyder said. "He had big games last year at various times, but he's up at that level more for longer periods during the game.
"That's the next level that he found tonight, understanding how to attack a defense, not just how to attack one guy."
Hayward had 11 points while the Jazz used a 16-0 run midway through the quarter to lead 74-60. The Cavs had a 17-0 roll after halftime thanks to an aggressive James and his 13 third-quarter points.
Trey Lyles had eight straight points, including a pair of 3-pointers, in the fourth quarter to help Utah hold on.
"Studying the film, doing some extra work before the games has helped me out," Hayward said. "Stuff that I didn't used to do. The little things like that have definitely transferred over.
"Going over matchups, going over how guys defend, how teams defend, what I can do better from the last time we played them. Different things like that."
James finished with 29 points and Kyrie Irving added 20 for the defending champs.
The Jazz led 56-41 at halftime after closing the second quarter on a 10-0 run highlighted by Hayward's alley-oop and 3-pointers from George Hill and Rodney Hood. Utah dominated the second quarter 27-12 while shooting 50 percent in the first half.
Cleveland's 12 points were a team season-low for a quarter.
"When we got down so much, we had to play so hard to come back," Cavs coach Tyronn Lue said. "We used so much energy in the third quarter. We should have started the game that way."
Korver debuts
Kyle Korver made his first appearance with the Cavs after being traded in a deal that sent Mike Dunleavy, Mo Williams, a protected first-round pick and cash to the Hawks last week. He scored two points and grabbed three rebounds in 17 minutes.
"I've always felt the better the players are around me, the better I can be," Korver said. "And this is the most talented team I've ever been on."
"First thing I told him when he walked in the locker room the other day was, 'If you want to fit in, shoot the ball every time you get it,'" James said of Korver. "Soon as it touches your hand, shoot it. We don't care."