China Post Group Co has released a new set of stamps to celebrate the Year of the Rooster, based on the Chinese zodiac.
The set, which went on sale on January 5 at designated post offices, includes two stamps and has a face value of 2.4 yuan ($0.34; .33 euro; 28p). One stamp features a running rooster, while the other displays a hen with two chicks.
Han Meilin, designer of the stamp set, said the Chinese have a special affinity for roosters because their silhouette resembles the shape of China on a map.
"The stamps symbolize family harmony," he added.It is the third time that Han, 80, has accepted the invitation to design Lunar New Year stamps.
The rooster is the 10th Chinese zodiac in a 12-year cycle, with the previous Year of the Rooster being in 2005. The coming Year of the Rooster starts on Jan 28, 2017.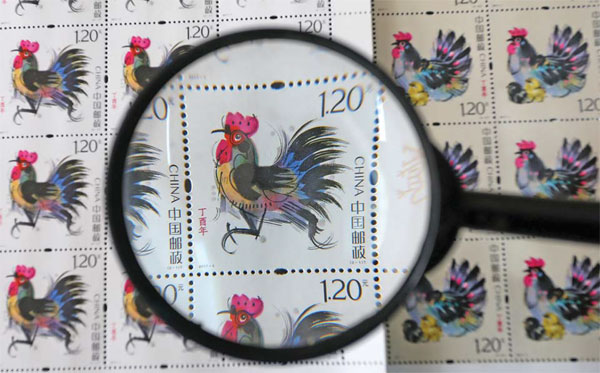 Rooster-themed stamps to celebrate the Year of the Rooster are displayed at a post office in Weifang, Shandong province, on Jan 3. Zhang Chi / For China Daily