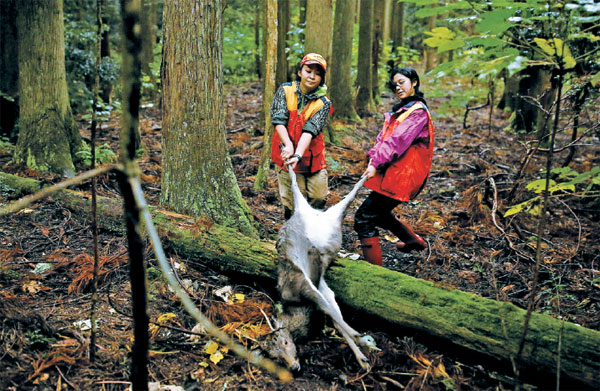 Hunters Chiaki Kodama (right) and Aoi Fukuno retrieve a deer shot by Kodama in a forest in Japan's Fukui Prefecture on Nov 17. Thomas Peter / Reuters
Chiaki Kodama blows her whistle and soon a male deer wanders into sight.
She slowly takes aim and squeezes the trigger of her rifle.
Moments later, Kodama and a friend on her first hunt are tracking the wounded animal through the forest.
"Look for the trail of blood," said Kodama as they set off on a mountainside in Japan's Fukui prefecture.
The 28-year-old hairdresser and city councilor is among a small but growing number of women entering the male-dominated world of hunting, where it was once taboo for men to even speak to a woman before going on a hunt.
As the hunting fraternity shrinks due to age and rural depopulation, women are recruited to help protect farms against rising numbers of wild deer and boar viewed as pests by farmers.
Farmer Manabu Ushiyachi said he welcomed any hunter, male or female, to help fend off the wild boar that feast on his vegetable crops.
"There are farms that have been completely devastated," he said, adding that attempts to trap the animals have failed.
Japanese farmers have lost up to $170 million annually since 2008 because of rising numbers of deer, boar, monkeys and birds.
Since 1990s, the number of deer in Japan has jumped from less than 400,000 to more than 3 million. The boar population doubled to 1 million.
Akiba said hunting was necessary to "keep the numbers under control in order to maintain a healthy ecosystem".
Of Japan's 105,000 registered hunters, two-thirds are 60 or older and only 1,169 are female.
After shooting the deer, Kodama and her friend, Aoi Fukuno, followed the blood trail and found the dead animal lying on a fallen tree.
Kodama then showed Aoi how to gut the deer and lay it in a river to drain the blood.
"It's exciting to finally see with my own eyes what I read in textbooks to get my license," Aoi said.