Although he always wears a suit and tie, Dorjee Dondrup has the distinctive appearance of a Tibetan Khampa man.
Born to the well-known Nyanshul family of the Tibetan Kham areas, Dorjee Dondrup has dedicated himself to promoting the thangka painting industry in Tibet.
By establishing a thangka academy in Sichuan province and a thangka painting center in Lhasa, capital of the Tibet autonomous region, he has become a prominent figure in the industry.
According to Nyanshul Genealogy and Dege Chieftain Biography, the Nyanshul family has a long history, and is situated mainly in the Minyak areas between Dartsedo city and Ta'u county of Sichuan's Garze Tibetan autonomous prefecture. The family has a rich cultural background, nurturing more than 50 Buddhist masters, scholars and high-ranking monks.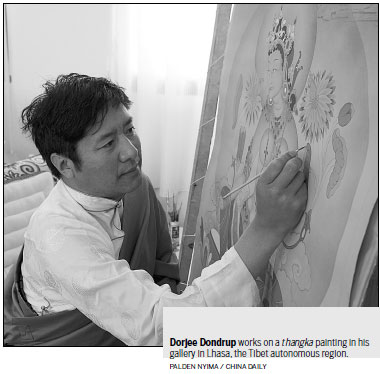 As a child, Dorjee Dondrup learned about Tibetan calligraphy, thangka art, butter sculptures, religious music, Buddhist rituals, scripture chanting and astrology.
Later, he was enrolled at the Sichuan Tibetan College, where he studied Tibetan grammar, poetry, logic and Tibetan medicine. After graduating, he was invited to take part in emendation work on the wood blocks of the Kagyur and Tengyur scriptures at the Dege Scripture Printing House, a century-old cultural institute in Dege county, Sichuan province.
In 1995, he was invited by the China Tibetology Research Center to paint illustration thangkas for the Kagyur and Tengyur sutras.
In the late 1990s, he co-established a thangka art academy in Chengdu, providing a stage for exchanges and communication, helping him to learn the painting style of Karma Gardre.
In 1998, together with eight other thangka artists, he moved his academy to Lhasa, bringing together artists from different schools.
He said that renowned Buddhism scholar Atisha was responsible for the unprecedented development of Tibetan Buddhism, adding that the Tibetan thangka painting style after the 10th century was strongly influenced by neighboring countries and regions, such as India, Pakistan, Nepal and other countries in the Middle East.
By converging different thangka painting styles, Dorjee Dondrup created his own painting style, called Dorluk, and built up his own team in 2006.
"Our style marries elements of Karma Gardre in its choice of colors, the Mansar style in the appearance of figures and dresses, the lotus-painting style of the Han culture, and elements of Western oil painting," Dorjee Dondrup said.
In 2014, he exhibited his works in the National Museum of China.
Now, his company has more than 130 painters and staff, and he has trained more than 300 students in the past 10 years, making a significant contribution to the promotion of the thangka industry.
palden_nyima@chinadaily.com.cn