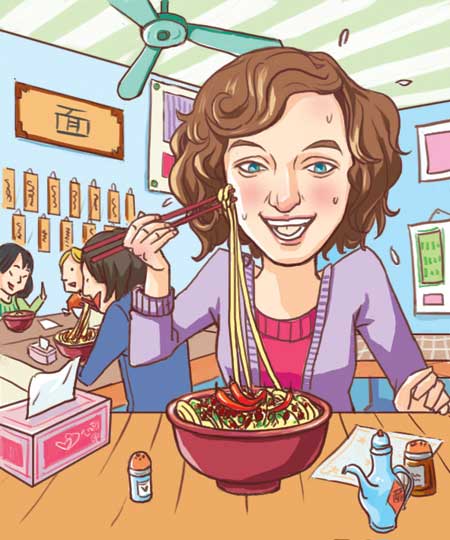 Zhang Jieye / For China Daily
I arrived in Beijing a mere three weeks ago; a native Iowan of the United States far from the land-locked Midwestern state I've called home. It wasn't too long after I stepped off the plane that I plunged face-first into this strange land filled with steamed buns, bare baby bums and flocks of umbrella-toting tourists. I was eager to embrace all the differences life back home never gave me and willingly flung myself - armed with chopsticks and a Chinese dictionary phone app - into chaotic Beijing.
Yet soon after I arrived I noticed subtle similarities between this teeming global metropolis and my fairly modest state.
It's laughable at first to try and compare Iowa City, where I live, with a population of 70,000 people, and Beijing, which has roughly 20 million people. But while the parallels may be small, they do exist.
Iowans know a lot about rural life as an agricultural state and depend on it, like China, for jobs. We also know a lot about stereotypes associated with rural life. It's Iowa where we grow corn. Also, for the record, I did not grow up on a farm growing corn or milking cows, just like not all Chinese residents grow up clad in straw hats and spending their days ankle-deep in paddy fields.
Iowa is also known for raising quality pigs, which we love to eat and so does China. A 2013 Forbes report says that pork makes up nearly three-fourths of the total meat consumed in China and the United States Department of Agriculture projects that the consumption will only rise. Iowa is the largest pork producer in the US.
Besides, Iowa's Governer Terry Branstad and China's President Xi Jinping are friends. The bond formed when the Hawkeye state gave Xi - then a local Party leader during an exchange trip - a good ole' Midwestern welcome back in the 1980s. Xi last visited the state in 2012 and many Iowans are proud of this unique tie that's a spectacle of sorts on the national stage.