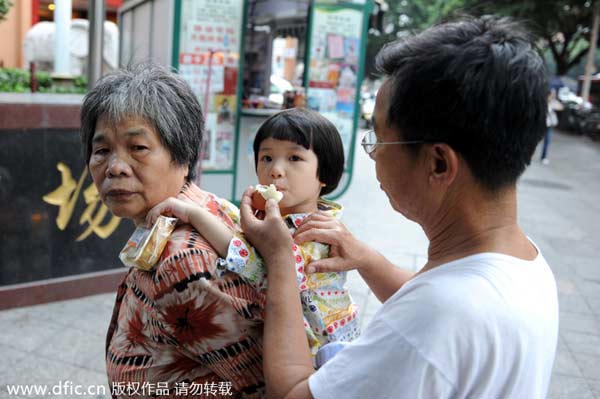 A retired couple take care of their granddaughter. It is a common scene in China, where elderly people play a major role in raising grandchildren. [Photo/IC]
A brief smile escaped the wrinkled face of a Chinese woman as she looked at the sky left crimson by a setting sun. The elderly woman stood outside the gymnasium of a housing cluster, carrying a child's backpack and a longing in her eyes that seemed to reflect a desire to hold on to the view.
But an energetic grade-schooler appeared shortly by her side. He was thirsty after a swim and needed grandmother to promptly give him water to drink. Grandma, on the other hand, may have enjoyed the sweet solitude longer had he not interrupted. The two then made their way home as dusk veiled Beijing.
The woman is unknown tome, but she symbolizes an established social practice in China - that of second-generation parenting.
Society's expectations from grand parents here look oversized when China is compared with other populous nations where family ties may run as deep.
Yet, China's elderly people are trying their best to live up to them.
India, with a relatively younger population, is one country where grandparents play a role in raising grand-children but not to the extent visible in China. South Korea, Japan and Thailand are rapidly graying countries in the neighbor-hood where the elderly are also involved in such processes but not at the same scale, some research suggest.
It isn't considered unusual for the elderly in China to look after the houses of their children or bring up grand-children, a local acquaintance points out.
For more Hot Pot Column stories, click here