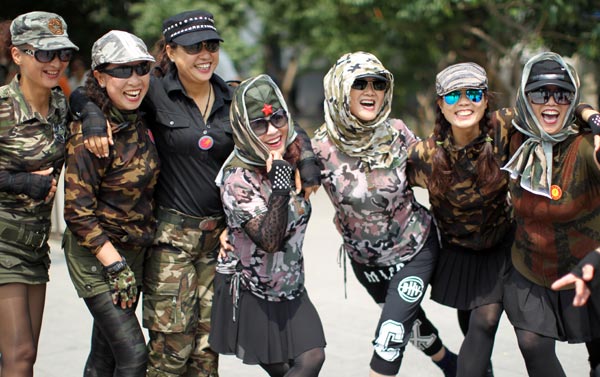 The dancers, (from left to right) Ma Hongwei, 45, Liu Yuru, 56, Ma Hongru, 47, Ge Fang, 56, Jiang Hua, 56, Wang Shuyin, 54 and An Xin, 54, participate in the square-dancing group in Taoranting Park with about 200 others, aged between 45 and 75. Photos by Zou Hong / China Daily
Square dancing is hugely popular among China's elderly citizens, who say it not only keeps them active, but is a great way of having fun in their twilight years. Chen Nan looks at the phenomenon.
Wang Baorong, 71, is wearing a military-style shirt, shorts and fishnet stockings. Two months ago, the septuagenarian joined a dance team and she's never been happier. Together with 200 people, aged between 45 and 75, Wang dances every morning from 8 until noon, mostly to Mandarin pop songs, played by a brick-sized portable music player.
"I forget all my troubles when I am dancing. I feel young again and happy," says the Beijing native, who rises at 5 am to spend more than three hours traveling from her home in Fangshan district, in the northern outskirts of Beijing, to Taoranting Park in the southern part of the capital.
Like taichi and singing patriotic songs, square dance or guangchang wu in Chinese, has become a trendy way of exercising and socializing among retired city dwellers.
According to Du Peng, chief of the Institute of Gerontology with Renmin University of China, by the end of 2013, there were more than 200 million people over the age of 60, nearly 15 percent of the whole population of China. About 83 percent of people over 60 engage in some form of physical activity.
He points out that 10 years ago, many of the nation's elderly had little education in their youth, but today, 77 percent of elderly people are educated and are looking for a different kind of retirement.
"Elderly people are changing. In the past, they just had few things to entertain them, such as yangko dance, a form of folk dance popular in northern China, but now they want a variety of activities," says Du.