Uygur man inspires nation by rescuing more than 60 people from accident scenes and carrying on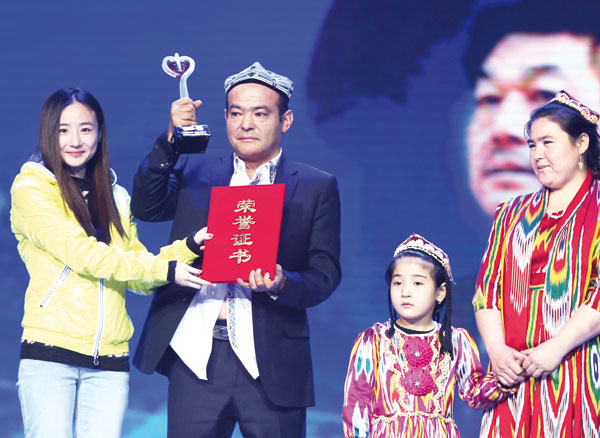 Abliz Mamatniyaz, a Uygur owner of a car company, gets an award for being one of 10 ordinary people most inspiring to the nation, on Jan 9 in Beijing. Qi Heng / Xinhua
He injured himself rescuing lives from fire when young, lost his love but never his heart and desire to help those in need, and found his true love and an eventual award for his "one man's marathon".
The phrase became trendy online as many Chinese netizens used it to describe the life journey of 39-year-old Abliz Mamatniyaz — a disabled Uygur man who has saved more than 60 lives in the past 22 years — after Xinhua News Agency named him one of the top 10 ordinary citizens who inspired the nation in 2013.
The first time he rushed into a fire in 1991 on National Highway 315 in Moyu county, Mamatniyaz was 17. After he rescued 11 people from a burning minivan, the young man paid a steep price — two arms maimed and almost amputated, a mouthful of teeth gone, and burns over 80 percent of his body. He was in a coma for three days.
"Lying on my sickbed, I told myself repeatedly: 'The moment I can move, I'll go to the rooftop and jump off,'" Mamatniyaz recalled, coughing from a heavy cold in his rented apartment in the city of Hotan in southern Xinjiang Uygur autonomous region. "I could not tolerate the pain."
At that time, Mamatniyaz had a beautiful girlfriend whom he wanted to spend his life with. But she never visited him during his nearly half-year stay in the hospital.
"The first day I walked out of the hospital, I saw her wedding with another man," he said bitterly. "She must have thought I was the most stupid guy on Earth because I was burned and became disabled while saving others."
Back home, he felt his burnt skin and broken heart. For the next nine years he refused to date. Sadly, he could hardly raise his hands."Your life is done," he was told.
Then came his father, his first and only hero. "Papa told me, 'No storm can fold a real eagle's wings,'" said Mamatniyaz. "I believed him."
For years, he kept trying to turn a steering wheel like before, though no employers dared to hire him to drive. One day, when he was leaning forward and struggling with the wheel using his body weight as usual, he suddenly heard a crack in his arms, and saw his dormant muscles alive again. In 1996, he went back to his most familiar profession, as a driver.