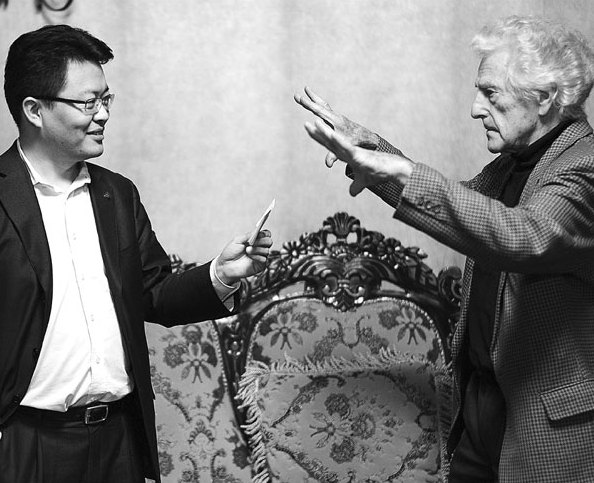 Zhang Yong in discussion with Swiss flutist Peter Lukas Graf who is with the Basel Music Academy. Graf was jury chairman of the 2012 event. Photos Provided to China Daily
Six years of persistence has brought a global music competition to Beijing, that its founder hopes will continue for many years to come. Sun Ye reports.
On the day when he had his biggest sense of accomplishment, Zhang Yong was heavily in debt.
When he stepped onto the podium at the Beijing Concert Hall the evening of Nov 14, his shirt was dirty. His tie was borrowed. In fact, he had taken it from one of the fellow judges upon arrival before he rushed across the aisle and made his emotional speech.
"It's not the best competition," says the 42-year-old founder of the annual Beijing International Music Competition. "There have been all too many ups and downs, but that's what a truly great success is to me."
The multi-discipline competition for classical music is in its sixth year, rotating every four years among the individual events of flute, clarinet, cello and string quartet. In 2013, the two-week contest expanded to vocals.
It is China's first independently organized event to join the World Federation of International Music Competitions (based in Geneva). The other three from China are all initiated by the government or backed by an academy.
For more China Face stories, click here