Tell a good story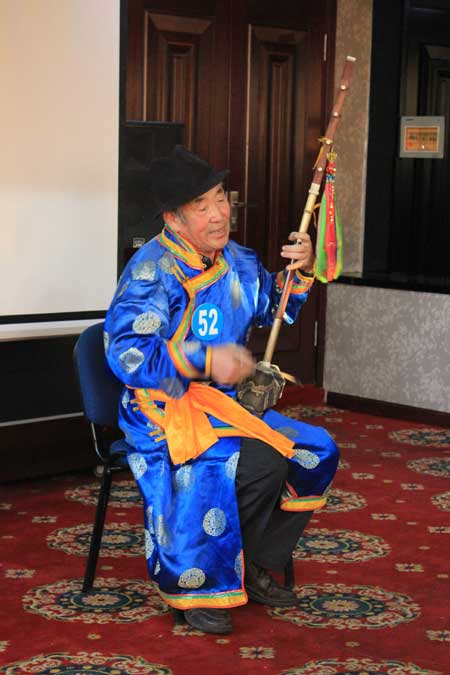 A contestant performs at the 2014 Inner Mongolia Ulger Competition in Tongliao, the Inner Mongolia autonomous region. Photos by Wang Kaihao / China Daily
Tongliao is not only known for its many Mongolian beauties, it is also home to a 700-year-old art of storytelling. Wang Kaihao finds out how the locals are trying to preserve this fading cultural heritage.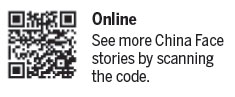 The Inner Mongolia autonomous region's eastern city of Tongliao is famous nationwide for producing many Mongolian beauties of the Horqin tribe throughout history.
But today, in a ballroom, the attraction is something different. The arena is small and simple, a chair, a sihu (a four-string bowed string instrument also known as khuuchir) and a good voice are all that is needed by performers with cadence and rhyme.
Audiences of all ages from the Mongolian ethnic group laugh and cheer from time to time. Even those who do not know an iota of Mongolian language find the shows amusing just by looking at the performers' exaggerated emotions.
Ulger, or Mongolian storytelling, mostly popular among the Horqin tribe in east Inner Mongolia, and nearby northeastern provinces, became one of the first national intangible cultural heritage items in 2006.
It is generally believed to have been formed in the Yuan Dynasty (1271-1368). That era offered many opportunities for the cultures of Mongols and Han to mix, transferring many historical legends of the Han people, like Romance of the Three Kingdoms and Romance of Sui and Tang Dynasties, northwards to the grasslands.
Genghis Khan and other nomadic leaders also contributed stories, according to a veteran ulger performer Rassiodser, who is also a judge of Inner Mongolia's ulger competition held every January. Tongliao has hosted the competition for three years in a row.
"Mongolians cannot resist its everlasting charm," he says proudly, referring to how many people keep squeezing into the ball room. "It gathers the essence of our ethnic group's music and literature."
Though this 73-year-old man regrets he is no longer as energetic as he once was, he always has a transistor radio at hand to search for his beloved melody on the airwaves.